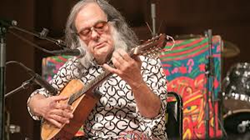 David Lindley is one of the great hidden treasures of the American music scene.
(PRWEB) September 24, 2014
David Lindley performs music that redefines the word "eclectic." Lindley is well known for his many years as the featured accompanist with Jackson Browne as well as work with Warren Zevon and other rock musicians and as leader of his own band El Rayo-X. He has worked extensively in other genres as well, performing with artists as varied as Curtis Mayfield, to Dolly Parton. He has long championed the concept of world music. David has mastered such a wide variety of instruments that Acoustic Guitar magazine referred to Lindley, not as a multi-instrumentalist, but instead as a "maxi-instrumentalist" in a cover story about his career.
David will be performing an intimate solo performance for one night only in San Rafael on Saturday November 15th presented by Murphy Productions & Famous4 in association with the Kanbar Center at the Osher Marin JCC in San Rafael.
David Lindley was one of the key musicians featured Rolling Stone Magazine's "The Knights of Soft Rock" (April 11, 2013 Issue). The article proclaims Lindley a "stringed-instrument wizard." His electro-acoustic performance effortlessly combines American folk, blues, and bluegrass traditions with elements from African, Arabic, Asian, Celtic, Malagasy, and Turkish musical sources.
Lindley plays an incredible array of stringed instruments including but not limited to Kona and Weissenborn Hawaiian lap steel guitar, Turkish saz and chumbus, Middle Eastern oud, and Irish bouzouki. The eye-poppingly clad "Mr. Dave's" uncanny vocal mimicry and demented sense of humor make his onstage banter a highlight of the show. Make sure you see this "Stringed Instrument Wizard" at his one Marin performance November 15, 2014 @ 8pm
WHAT: An Evening with David Lindley.
TICKETS: $25 general - $35 reserved. Available now at MurphyProductions.com
SEATING: Limited VIP & Reserved Cabaret Table Seating available
WHEN: Sat, Nov. 15th 2014 Bar Opens 7:00 | Concert 8pm
WHERE: The Osher Marin JCC, 200 N San Pedro Rd. San Rafael
VIDEO 1
VIDEO 2
The Kanbar Center for the Performing Arts is the Performing Arts Department within the Osher Marin Jewish Community Center in San Rafael, California. For over 20 years we have spread the power of music, voice, humor, taste, culture, movement and words throughout the community by presenting classical music, club style dancing events, comedy, musical concerts, theater and performance in the grand Hoytt Theater, lectures. chats and demonstrations in the Kurland lounge and great world music & dancing for all ages outdoors under summer skies on Swig Field. All are welcome; no membership is required to attend. The Center is a long-standing Marin non- profit, centrally located in Marin County and just 1/4 mile east off Hwy 101