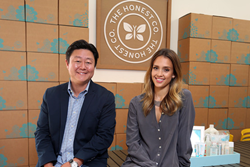 "LA is developing its own unique tech ecosystem as it leverages an established entrepreneur mindset, world-class talent and artistic influencers to produce the next generation of startups," says Vator founder Bambi Francisco.
Santa Monica, CA (PRWEB) September 24, 2014
Honest Company's celebrity founder Jessica Alba – international-star-turned-entrepreneur – and her co-founder CEO Brian Lee (founder of ShoeDazzle and Legal Zoom) will be on stage at the upcoming Vator Splash LA one-day conference and startup competition. Presented in partnership with the LA Chamber of Commerce and Bixel Exchange, the event takes place October 2 at Shutters on the Beach in Santa Monica. Other startup founders on the agenda include Michael Heyward (Whisper), Bill Gross (Idealab), Scott Painter, (TrueCar) Mike Jones (Science) and former Splash LA startup winner Aaron Hirschhorn (DogVacay).
Now in its 4th year, Vator Splash features speakers from some of the most important VCs, corporate investors and accelerators in California. Among these are the key entertainment industry venture groups from Warner Bros., Disney TechStars, WME Ventures, UTA and Comcast, who now play an increasing role in LA's high-stakes startup funding game. Big name venture firms at the event include Anthem Venture Partners, Amplify, Baroda Capital, Bullpen Capital, Core Innovation Capital, Crosscut Ventures, Greycroft, Javelin Venture Partners, Structure VC, Wavemaker Partners, Plus Capital, Mucker Lab, The Pritzker Group, Upfront Ventures, Rustic Canyon, Tech Coast Angels, White Star Capital, Shasta Ventures and Susa Ventures. VC investors at the event represent some $5 billion in capital-under-management.
Vator Splash alumnus Mitch Thrower, a serial entrepreneur, angel investor and 22-time Ironman triathlete will emcee the event. A successful startup founder himself, Thrower participated as a Splash finalist in 2011. The company Mitch founded, Events.com, went on to create jobs and attract millions in funding from notable investors, including Eric Schmidt's Tomorrow Ventures and Wilson Sonsini Ventures. Today the company has grown to 60 employees and is poised for its national launch in October 2014.
Civic leaders will also participate. Peter Marx, City of Los Angeles chief information and innovation officer, will participate in a special session entitled "Technology and the LA Culture"; to be introduced by 11th district councilmember Mike Bonin and moderated by Digital LA and Silicon Beachfest founder Kevin Winston.
"LA is developing its own unique tech ecosystem as it leverages an established entrepreneur mindset, world-class talent and artistic influencers to produce the next generation of startups," said Vator founder and CEO Bambi Francisco. "In this 4th year of Splash LA, we're thrilled to have some of the brightest minds in the venture funding and tech startup community coming together for a full day of conversation and inspiration."
Hot topics from the Vator Splash 2014 agenda and featured speakers to interview:
– How does Honest Company plan to be LA's hottest IPO in 2015? Listen to Jessica Alba and Brian Lee share their thoughts and interact with these visionary superstars
– Meet the investors shaping the LA tech ecosystem.
Hear from Dana Settle (Greycroft, first investor in Maker Studios), Paige Craig (prolific angel), Erik Rannala (Founder, Mucker Lab), Eric Manlunas (Founder, Wavemaker/Siemer), Bill Woodword (Founder, Anthem Venture Partners)
– Can the culture and community of LA shape the region to be a sustainable, world-class tech hub?
Hear from Peter Marx (City of LA); Councilman Mike Bonin (City of LA District 11), Kevin Winston (Digital LA & Silicon Beachfest), Tara Roth (Goldhirsh Foundation), Eva Ho (Susa Ventures), Nate Redmond (Rustic Canyon), Ashish Soni (USC Viterbi Startup Garage) & Rob Kornegay (Wilson Sonsini).
– Whisper showcases LA as the social media app capital of the world.
Michael Heyward, Founder & CEO of Whisper, and Matt Coffin, early investor.Review how LA rose to this lofty position and see what the future holds.
– Has the app become the new script in LA?
Hear from heads of venture investing from Disney/TechStars, UTA, WME Ventures, Plus Capital.
– Meet the pioneers of startup incubation. Hear from Mike Jones (Science), Bill Gross (Idealab), Paul Bricault (Amplify), Erik Rannala (Mucker Capital).
– Secrets behind getting your marketplace going and scaling your company
Listen to founders/CEOs Aaron Hirschhorn (DogVacay), Jordan Metzner (Washio), Lynn Perkins (UrbanSitter).
Sponsors for Vator Splash LA 2014 include Wilson Sonsini Goodrich & Rosati, Events.com, KPMG, PayPal, Braintree, Javelin Venture Partners, TrueCar, CBRE, Wavemaker Partners, Structure Capital, TriNet, Scrubbed and Stratpoint.
A limited number of Tickets for Vator Splash are still available.
Press contacts: Karen Wertman, karen@vator.tv; Ani Okkasian, aokkasian@lachamber.com
Press pass requests: press@vator.tv (Deadline for press pass requests is 9/29/14.)