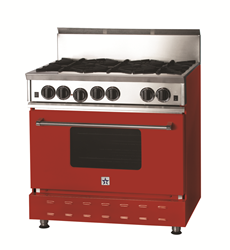 Unleash your inner designer this fall with BlueStar ranges, wall ovens and hoods in a huge variety of colors to match any kitchen décor.
Reading, Pa. (PRWEB) September 23, 2014
Unleash your inner designer this fall with BlueStar ranges, wall ovens and hoods in a huge variety of colors to match any kitchen décor.
As temperatures drop and people begin to spend more time at home, bring seasonal color accents inside by decorating with some fresh fall hues. For the right palette, BlueStar® turned to the color experts at the Pantone Color Institute®. This fall, they say that this season's purple shades are Mauve Mist, a romantic, delicate purple, and, of course, the vibrant Radiant Orchid, the 2014 Pantone Color of the Year. Paired with a Cypress green, these colors will add balance and flair to any home. Bright Cobalt Blue and Royal Blue continue to make a splash, especially when paired with stainless steel. However, it's not fall until the colors of the leaves make their way into the home. In reds, look for Sangria, an exotic shade of red; and its sister shade, Aurora Red, which adds an air of sophistication and spark. The classy and cultured shade of Cognac also will be seen in home décor as will Misted Yellow, a wonderful color for printed fabrics.
Customize a Bluestar® with the Latest Fall Colors
BlueStar® restaurant-quality appliances combine the best in high-end performance and design. They are available in more than 750 colors & finishes, and can even be custom color matched. Add a stand-out, yellow wall oven or a stunning range in one of fall's vibrant reds to make the kitchen the focal point of the home. Additionally, you can add colored knobs to a BlueStar® range or wall oven. To see the fresh new fall colors try the BlueStar® Color Configurator.
In addition to color, adding a little texture is always a classic touch. With 10 textured paints that add depth and appeal to appliances, BlueStar's Textures line has the ability to add dimension to any home kitchen. The Textures line offers seven unique metal textures – from an inviting copper vein to a cool silver gray hammertone.
Speaking of gray, aluminum has made it onto the fall color watch list. This hue is a futuristic stainless steel shade that serves as a complex neutral. Found along both warm and cool gradients, gray bridges the gap between black and brown in a soothing transition. "Expect muted metallic and gray tones on appliances and fixtures and gray countertops to dominate," says BlueStar® Marketing Vice President Eliza Sheffield. BlueStar® happens to have 20+ gray shades in its line.
Handcrafted in Reading, PA since 1880, BlueStar® cooking products are designed for discerning home chefs who demand restaurant-quality results in their own kitchens. BlueStar's unique performance features include an open gas burner system that produces up to 25,000 BTUs of cooking power, precise 130 degree simmer burners, and oversized convection ovens with professional-grade infrared broilers. For more information, visit Bluestarcooking.com.