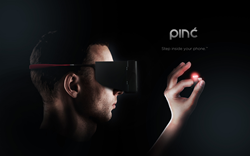 When we step inside our mobile phones and interact with apps in virtual environments, we get into a new realm of computing
Toronto, ON (PRWEB) September 23, 2014
Cordon is pleased to announce Pinć (pronounced PINCH), a mobile VR platform and smartphone case unfolding into VR glasses allowing users to maximize on the power of their iPhone 6. Pinć is available for preorder starting October 1st, 2014 with orders shipping in the Spring of 2015.
The Pinć team has developed a patent pending prototype for the only pocket sized mobile platform bringing VR headsets out of the gaming world and into the mainstream. The device is controlled by optical control rings worn on index fingers that pinch to click with users' hands. Pinć is a groundbreaking iOS platform built on the concept of spatial computing, turning browsing, multitasking and shopping into an immersive virtual reality experience.
"We see the opportunity for VR as much broader than just gaming. Areas like everyday computing, productivity and commerce are very interesting for us. When we step inside our mobile phones and interact with apps in virtual environments, we get into a new realm of computing" said Milan Baic, President of Cordon, who's heading Pinć product development.
Mobile users expect more and more of their smartphones. The industry has had quantum leaps in mobile computing capabilities, cameras and 3D graphics in mobile devices over the last few years, yet the opportunity to tap into that computing power via screen size has increased by little over an inch.
"The biggest limitation for customers, developers and brands is the screen and interaction size on mobile devices," explains Baic. The Pinć team aims to expand the capabilities of these mobile devices utilizing VR and control technology to dramatically expand the interaction, work and viewing area.
Pinć is releasing an SDK for developers that want to tap into the Pinć app ecosystem in early 2015. With the launch of their Kickstarter campaign, Pinć will be available for limited pre-sale starting October 1st, 2014 at http://www.hellopinc.com for $99.00 CAD. Orders will begin shipping in Spring 2015.
About Cordon
Cordon Media, Inc. is technology company specializing in interface design for both mobile and touchscreen applications. Cordon has spent years developing immersive and futuristic interfaces for large scale commercial applications with teams of engineers & creatives building large infrastructure projects for select markets. The company is now set to take their expertise into the mainstream consumer market via VR technology.
Press inquiries
Emilia Zych
416 849 5964
info(at)hellopinc(dot)com