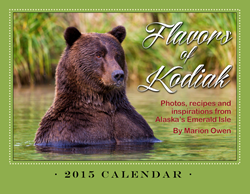 Amazing photos and recipes that are simple, tasty and good for you. The dates with quirky holidays give everyone more reasons to smile.
(PRWEB) September 25, 2014
Veteran photographer Marion Owen of Kodiak, Alaska is pleased to announce the publication of her 2015 wall calendar, "Flavors of Kodiak: Photos, Recipes and Inspirations from Alaska's Emerald Isle," a fusion of three, universally popular hobbies: Cooking, photography and gardening. The 2015 edition follows on the heels of last year's calendar, which sold out to fans from Spain to Seattle.
It began when Owen, a teacher, master gardener and chef, received requests to publish a cookbook, a gardening manual or a coffee table book of photography. "I had file folders stuffed with ideas, but I needed a 'mixing bowl' for combining all the ingredients."
The 28-page calendar was the solution for Owen and many others. "Living far from family, I am always looking for unique ways to share Alaska's beauty," says Kate Alexander, resident of Anchorage, the state's largest city. "For me, it's the perfect gift. Amazing photos and recipes that are simple, tasty and good for you. The dates with quirky holidays give everyone more reasons to smile. Before mailing the calendars though, I make sure to write my birthday in the correct square!"
The quirky holidays can be zany, little-known events or new ones that Owen invented. May 1st is 'Celebrate the Return of Puffins to Kodiak Day' and September 21st is 'Take Your Camera for a Walk Day.' "It gives people an excuse to get outside and enjoy nature," says Owen, a well-published, award-winning photographer.
"Kodiak Island is a bucket list destination," says Chastity McCarthy, Executive Director of Discover Kodiak. "We're seeing a steady increase in tourism, especially families and adventure travelers coming from all corners of the world to take in The Emerald Isle's beauty and authentic wilderness feel."
A sample of that beauty adorns the calendar's cover: a head-and-shoulders portrait of a stocky brown bear sitting in a pool of water, as if relaxing in a Turkish bath. The remaining pages are a charming mix: January features two surfers, bathed in golden winter light facing a tall stack of storm waves. And there's a recipe for Oregano Ginger Tea which, Owen says, is the cure for the common cold. "At the very least, you'll feel better."
As for recipes, Owen included Mini Smoked Salmon Pies and a surprising list of ingredients for Smoothies You Really Want to Drink. In 2014, she published her Kodiak Island Granola recipe. "It's a crowd-pleaser. Many of our B&B guests ask for a baggie of it for snacking on the trip home."
Marion Owen lives in Kodiak, Alaska as a fine art photographer, instructor and columnist specializing in extreme macro work (i.e. snowflakes), landscapes, nightscapes, and publishing. Her work is shown in galleries, businesses and private homes and has been engaged by National Geographic Traveler, Patagonia, Audubon, and Better Homes and Gardens, to name a few. Co-author of the New York Times bestseller, Chicken Soup for the Gardener's Soul, she and her husband operate Galley Gourmet dinner cruises and wildlife tours, and the Cliff House B&B.
Individuals interested in purchasing "Flavors of Kodiak" can contact Marion Owen directly or online at http://www.MarionOwenPhotography.com. The calendar retails for $15 plus shipping. For more info: Marion Owen (Mobile: 907-539-5009); mygarden(at)alaska.net • 1223 W Kouskov St., Kodiak, AK 99615.