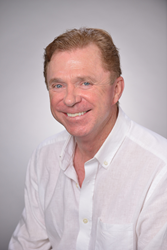 Gum recession is the process in which the margin of the gum tissue that surrounds the teeth pulls away and exposes more of the tooth's root, making them more sensitive
West Palm Beach, Florida (PRWEB) September 30, 2014
Two revolutionary procedures now being utilized by Dr. Salisbury of Florida make the treatment of gum disease a far less painful and far more effective remedy than traditional treatments of the past.
"If you've ever felt electric shock waves surge through your teeth as you bite into ice cream or sip a cold beverage, it's possible you already know the impact of receding gums," says Dr. Herbert Salisbury, who is a general dentist in West Palm Beach, and a Fellow in the Academy of General Dentistry. "Gum recession is the process in which the margin of the gum tissue that surrounds the teeth pulls away and exposes more of the tooth's root, making them more sensitive.
Perhaps this is where the phrase 'long in the tooth' originated, as gum recession is often (wrongfully) thought of as a phenomenon of aging," he adds.
The American Dental Association says that nearly 50 percent of Americans between the ages of 18 and 65 have receding gums. Recession is frequently left untreated due to the perception of a painful, invasive procedure to reverse the damage. But Dr. Salisbury says that is no longer the case.
"The public perception is that gum surgery is painful, takes weeks to recover, and leaves your teeth extremely sensitive to temperature, as the roots of the teeth are exposed," he says. "The reality is that with advanced laser techniques, we can reverse gum disease, stimulate new bone growth and stabilize loose teeth... with only minimal discomfort."
Gum recession is caused by a variety of reasons and can be assessed by a dental professional. Common causes include bacterial infection (gum disease), aggressive tooth brushing, hormonal changes, clenching/grinding teeth, and tobacco use.
Receding gums may be one of the first signs of gum disease. Gum disease, or periodontal disease, has been linked to over 52 medical conditions including heart disease, diabetes, auto-immune diseases such as lupus, fibromyalgia, osteoporosis and Alzheimer's.
To combat this harmful condition, Dr. Salisbury provides LANAP® (Laser Assisted New Attachment Procedure) in affiliation with general dental practices in the West Palm Beach area. In addition to restoring bone structure in the mouth and improving overall health of the gums, Dr. Salisbury performs another procedure to reverse the effects of receding gums.
"With certification in the Chao Pinhole Surgical Technique™, (PST™) it is possible to provide a quick, fairly painless "gum lift" during your lunch hour," he adds. This procedure takes about 30 minutes and can restore natural gum contour. With PST™, the patient is numbed using local anesthesia, and a "pinhole" placed above the tooth with receding gum line. The tissue is repositioned, and tiny collagen strips are inserted to keep the tissue in place until the patient's body produces new collagen to fix the receding gums.
LANAP® and Chao Pinhole Surgical Techniques™ are revolutionizing the way periodontal surgery is performed. Dr. Salisbury is among a small number of elite dentists performing these procedures. Only 500 dentists are certified in the Chao Pinhole Surgical Technique™ and only 1,800 are certified LANAP® providers. According to the bureau of labor statistics, this is out of approximately 146,000 total dentists who practice dentistry in the United States http://www.bls.gov/ooh/healthcare/dentists.htm.
About Dr. Herbert Salisbury
Dr. Herbert Salisbury is an experienced dentist practicing comprehensive dentistry since 1980. By partnering with dental practices in south Florida, he has created laser centers where patients can come to learn about the systemic effects of gum disease, the risk factors and the different treatment options. Salisbury's Laser Gum Surgery Centers of Southern Florida are committed to providing exceptional dental care to the South Florida area including Boca Raton, Delray Beach, Boynton Beach, Lake Worth, Palm Springs, West Palm Beach, Jupiter, Palm Beach Gardens, Wellington and more. Their mission is to utilize the world's most advanced technology to eliminate periodontal disease and support the health and well being of patients.
Media contact:
Dr. Salisbury
850-387-1570
###