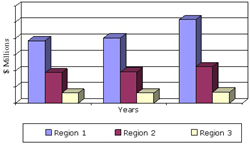 Global Market for Joint Reconstruction and Replacement to Reach $16.2 Billion In 2018
(PRWEB) September 23, 2014
Wellesley, Mass., September 23, 2014 – BCC Research (http://www.bccresearch.com) reveals in its new report, Joint Reconstruction and Replacement: Materials, Technologies, and Global Markets, the global market for joint reconstruction and replacement is expected to increase to nearly $16.2 billion by 2018, registering a compound annual growth rate (CAGR) of 4.2% from 2013 through 2018. The U.S. occupies the largest share among the major regions, surging at a CAGR of 5.1%.
Revision and partial joint replacement procedures will improve the growth of the market due to the number of younger aged patients in need of these procedures. A broadening patient base, which includes younger patients below 55 years of age and elderly patients above the age of 80, will increase the demand for hip and knee replacement procedures. On the other hand, growth rates in average implant price are expected to be constant or negative in the range of -1% to -2% during the same period.
The U.S. market is estimated to reach over $10.3 billion by 2018. The European and Japanese markets are anticipated to reach $4.5 billion and $1.3 billion by 2018, at CAGRs of 3.3% and 1.4%, respectively.
"Knee replacement procedures will continue to grow faster than hip replacement procedures because of the increasingly active aging population," says BCC Research healthcare analyst Dr. Ritu Thakur Dangi. "Although shoulder and small joint replacement procedures are low in numbers, they are expected to grow at a higher growth rate than the other segments due to the increasing awareness and availability of cost-effective procedure options."
JOINT RECONSTRUCTION AND REPLACEMENT: MATERIALS, TECHNOLOGIES, AND GLOBAL MARKETS provides an overview of the products included in this market, and detailed analyses of markets and competitive environments. The study includes information about significant products, players, issues and trends, and other information affecting the orthopedic (joint replacement) industry.
Editors and reporters who wish to speak with the analyst should contact Steven Cumming at steven.cumming@bccresearch.com.
About BCC Research
BCC Research publishes market research reports that make organizations worldwide more profitable with intelligence that drives smart business decisions. These reports cover today's major industrial and technology sectors, including emerging markets. For more than 40 years we've helped customers identify new market opportunities with accurate and reliable data and insight, including market sizing, forecasting, industry overviews, and identification of significant trends and key competitors. We partner with analysts who are experts in specific areas of industry and technology, providing unbiased measurements and assessments of global markets. Our clients include the top companies in industries around the world as well as universities, business schools, start-ups, consulting firms and investment companies. BCC Research is a unit of Eli Research LLC. Visit our website at http://www.bccresearch.com. Contact us: (+1) 781-489-7301 (U.S. Eastern time), or email information@bccresearch.com.
Data and analysis extracted from this press release must be accompanied by a statement identifying BCC Research LLC, 49-2 Walnut Park, Wellesley, MA 02481, Telephone: (+1) 781-489-7301; Email: editor@bccresearch.com as the source and publisher. Thank you.