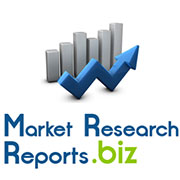 The market for thin, flexible and/or printed batteries will increase to over 300 million by 2024
(PRWEB) September 23, 2014
Thin, flexible and printed batteries have commercially existed for more than ten years. Traditionally, the micro-power thin and printed batteries were used in skin patches, RFID tags and smart cards. Today however the composition of the target market has drastically changed with greatest interest from wearable devices, consumer electronics and Internet of Things.
View Full Report at http://www.marketresearchreports.biz/analysis/224159
This change in focus has generated intense activity from big names such as Apple, LG, Samsung, Nokia, STMicroelectronics and others. At the same time, it has enticed many others to enter the foray despite many companies such as Infinite Power Solutions, Power Paper, KSW Microtec leaving the business due to lacklustre or sporadic success.
IDTechEx provides detailed technology assessments and benchmarking, ten-year market forecasts segmented by application and technology type, and detailed interview-based business intelligence and profiles on key players and large end users.
Download Detail Report With Complete TOC at http://www.marketresearchreports.biz/sample/sample/224159
In this study IDTechEx has drawn upon at least 35 direct interviews and visits with key suppliers and large end users from a variety of sectors and years of accumulated experience and market knowledge for the end use applications such as active RFIDs, smart cards, skin patches, smart packaging and recently wearables. Our team working on this project has been highly technical, enabling it to fully understand the merits and challenges of each technology in this complex landscape.
The market and technology landscape is complex. There are no black-and-white and clear technology winners and the definition of market requirements is in a constant state of flux.
Indeed, on the technology side, there are many solutions that fall within the broad category of thin film, flexible or printed batteries. These include printed zinc-based batteries, thin lithium batteries, thin film lithium polymer batteries, curved lithium ion batteries and also thin flexible supercapacitors. It is a confusing technology landscape which makes it challenging for developers to bet on the right technology and devise best product positions. It also creates uncertainty for the end users.
Explore Semiconductors Market Research Reports http://www.marketresearchreports.biz/category/63
On the market side, many applications are still emerging and the requirements are fast evolving with time. The target markets are also very diverse, each with different requirements for power, lifetime, thinness, cost, charging cycles, reliability, flexibility, etc. This diversity of requirements means that no thin film battery solution offers a one-size-fits-all solution.
In general, wearable electronics is a major growth area for thin film and flexible batteries. This is because energy storage is a major technology challenge. Conventional secondary batteries may meet the energy requirements of wearable devices, but they struggle to achieve flexibility, thinness and light weight. These new market requirements open up the space for energy storage solutions with novel form factors. Indeed, the majority of thin film battery companies tell us that they have on-going projects in the wearable technology field. High-energy thin film batteries have the highest potential here followed by printed rechargeable zinc battery provided the latter can improve.
The healthcare sector is also a promising target market. Skin patches using printed batteries are already a commercial reality while IDTechEx anticipates that the market for disposable medical devices requiring micro-power batteries will also expand. Here, printed zinc batteries have the highest potential but price needs to continue falling before a higher market uptake takes place. Here too, new form factors will be the key differentiator compared to the high-volume incumbents such as coin cell batteries.
Browse All IDTechEx Market Research Reports at http://www.marketresearchreports.biz/publisher/58
Medical diagnostic devices, medical sensors and memory backups are also promising markets. Here, LiPON-based thin lithium battery deliver most value as these applications require stable power sources with extreme safety, long life time and high capacity. The current thin battery technology is not mature enough yet to be applied straightaway. Wireless sensors/networks application is another important trend. Here, there is a trend to combine energy harvesting with thin batteries with superior form factors.
Active and battery-assisted passive RFID is also a potential target market although coin-cells are the main solutions unless there is a stringent requirement for laminar or flexible design such as in car plates. It is also in these small niches that thin film batteries might find place.
Smart cards also remain an attractive sector and several thin film battery technologies have been optimised to meet the lamination requirements for card manufacture. The price is however too steep and lifetime too low for primary batteries (and charging challenging for secondary ones) to enable widespread market penetration. The emerging of online and mobile banking carries a long-term threat of substitution.
Related Reports -
Printed, Organic & Flexible Electronics Forecasts, Players & Opportunities 2014-2024
View Full Report at http://www.marketresearchreports.biz/analysis/217356
The report specifically addresses the big picture - including OLED displays and lighting, to thin film photovoltaics to flexible sensors and much more. Importantly, it includes not only electronics which are printed, organic and/or flexible now, but it also covers those that will be. Realistic timescales, case studies, existing products and the emergence of new products are given, as are impediments and opportunities for the years to come.
Download Detail Report With Complete TOC at http://www.marketresearchreports.biz/sample/sample/217356
Over 3,000 organizations are pursuing printed, organic, flexible electronics, including printing, electronics, materials and packaging companies. While some of these technologies are in use now - indeed there are three sectors which have created billion dollar markets - others are commercially embryonic. This report provides the most comprehensive view of the topic, giving detailed ten year forecasts by device type. The market is analyzed by territory, printed vs non printed, rigid vs flexible, inorganic vs organic, cost of materials vs process cost and much more. Activities of over 1,000 leading companies are given, as is assessment of the winners and losers to come.
OLED Lighting Opportunities 2014-2025: Forecasts, Technologies, Players
View Full Report at http://www.marketresearchreports.biz/analysis/220169
OLED and LED lighting are both solid-state technologies and offer overlapping value propositions per market segment. They will therefore compete directly in many instances. LED lighting has come a long way and offers a better performance than OLEDs, and that at a lower cost. OLED lighting will therefore only gain market success if it clearly defines its unique selling points and carves out initial market niches. This report is divided into two parts: (a) technology and (b) market assessment. The first offers a comprehensive yet detailed overview of both LED and OLED lighting, going through fabrication processes, material compositions, technology roadmaps, and key players.
Download Detail Report With Complete TOC at http://www.marketresearchreports.biz/sample/sample/220169
The device attributes of each technology are also critically assessed, examining parameters such as colour warmth and controllability, flexibility, efficiency, surface emission, lifetime, wafer size, and luminaire design. The second section offers a blunt market assessment. Detailed cost projection roadmaps are developed, factoring in estimated cost evolution of the integrated substrates, encapsulation layers and materials. Changes in system configuration and material composition required to enable the cost roadmaps are outlined. We also factor in production costs including capital and labour. Values are expressed in units of $/unit and $/klm.
About Us
Marketresearchreports.biz is the most comprehensive collection of market research reports. Marketresearchreports.biz services are especially designed to save time and money of our clients. We are a one stop solution for all your research needs, our main offerings are syndicated research reports, custom research, subscription access and consulting services. We serve all sizes and types of companies spanning across various industries.
Browse Blog at http://businessmonitorinternational.wordpress.com/