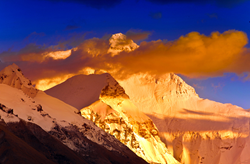 Everest Base Camp is the most popular tourist attractions in Tibet.
Lhasa, Tibet (PRWEB) September 29, 2014
Mt. Everest (also known as Mt. Qomolangma), the world's highest mountain measuring 8844.43 meters height, is located in the Mahalangur section of the Himalayas, a border area shared between Nepal and China. With magnificent scenery, Mt. Everest has long been one of the most popular destinations to tourists both at home and abroad. Each year, thousands of foreign tourists flock to here, yet not all of them had a great time because of the inadequate preparation. Lately, Tibet Vista has received many e-mails asking what overseas tourists should prepare for while traveling at EBC during the upcoming month of October.
To help foreign tourists with due preparations before departure, Cindy, a senior travel advisor with TibetTravel.org, offers the latest travel guide for tourists who are about to have Everest Base Camp travel
When to Go
Because of the rather high altitude, Mt. Everest is covered by snow all year round and the climate there is quite harsh. Its weather is expected to be relatively good and the temperature is comparatively mild between April and October, but the best time to visit the peak of Everest would be from June to July. Even in summer, the temperature drops dramatically at night.
Where to Stay
Travelers could stay at the Rongbuk Monastery Guesthouse, which is 8km away from the Everest Base Camp and with only basic facilities. Several travelers will have to share one room. In addition to the guesthouse, there is a simple restaurant. Tourists could buy some noodles, coffee, milk, fried egg or rice for breakfast.
What to Pack
Foreign tourists should bring necessary documents and permits. Only with several permits (Chinese visa, Tibet Travel Permit, Alien's Travel Permit), can foreigners visit the Everest region. Normally travelers have to apply for a Chinese visa by themselves and leave the other permits to a Tibet travel agency.
Proper Clothing
The summer in the Everest region is really cold, so the down jacket is a must. If possible, travelers should bring their sleeping bags.
Medicine
Before visiting Mt. Everest, travelers should take some medicines like Diamox to prevent the symptom of altitude sickness. It is also advisable to bring some cold cures because it would be very troublesome if a tourist caught a cold in Tibet.
Food and drink
As Mt. Everest is situated in a remote area, there are few restaurants nearby. Travelers should pack some dried or convenient food in advance just in case.
About Tibet Vista
Tibet Vista - Tibet Travel and Tours (http://www.tibettravel.org) is the best local tour operator, organizing more than 1,000 individual travelers and over 100 tour groups to Tibet annually. It helps travelers obtain the Tibet Travel Permits, book air/train tickets to Tibet and customize their tours.