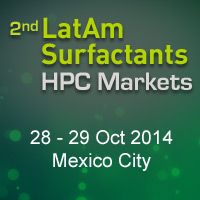 The conference will discuss the LATAM's burgeoning personal and home care sectors, role of major HPC players, renewable surfactants, market for green emulsifiers and much more.
Mexico City, Mexico (PRWEB) September 30, 2014
With Latin American countries like Mexico, Brazil, Colombia becoming a hotspot for personal and home care products, this event is well-timed to take stock of the latest developments in the region's surfactants and HPC markets and the potential for sustainable and green products in the region. In tune with the central theme "shift towards green products & growth region", the organizer will have Leandro Soncini Rodrigues, Global Marketing Manager home and personal care, Oxiteno – also the event's Corporate Sponsor, answer the question – If Latin America is The Future Home Of Sustainable Sourcing For The Home Care Market?
Other notable speakers include: Juan Carlos Camargo, Division Manager (Ecology), Walmart de Mexico sharing overview of 'Meeting Walmart's Safer & Sustainable Products Initiatives' and P&G Mexico's Household Care& Grooming Commercial Associate Director – Pedro Bousono presenting on 'Home & Fabric Care Market Trends & Outlook In Mexico'.
In addition, delegates can look forward to insightful discussions on:

Latin America's Economic Outlook – BBVA Mexico
Development Of Private Label Products In Latin America – Distribuidora Punto Rojo S.A.
Key Mega Trends & Their Impact On The Latin American Surfactants Industry – Frost & Sullivan Latin America
Global Fatty Alcohol & Ethoxylate Market Outlook – Colin A. Houston & Associates
Hair Care Trends & Market Potetial In Mexico – Grisi Laboratories
Personal Care Market In Mexico, The Andean Region & Central America – CANIPEC
365 – Daily Sun Care Protection - BASF
Next Generation Of Multifunctional, High Performance Green Emulsifiers – Clariant S.A
Market Prospects & Innovations Of Renewable Surfactants From Biorefinery - Elevance Renewable Sciences
Visit the event website or Contact Ms. Grace at +65 6346 9218.