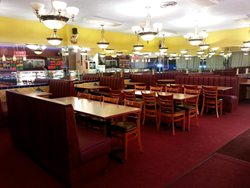 The ladder back chair the most popular restaurant chair in America
Milwaukee, WI (PRWEB) September 23, 2014
Leading commercial furniture distributor, Restaurant Furniture.net recently teamed up with Bombay Sweets in Milwaukee, Wisconsin to help them upgrade their seating by supplying them with American made wood chairs.
Bombay Sweets was introduced to Milwaukee in the spring of 1999. Originally from Punjab, India, Narinder Kumar traveled through Asia and Europe. Ultimately, he ended up in the United States where he later started his business in Milwaukee, Wisconsin; the business is operated by both Narinder Kumar and his wife Babita Kumar. Bombay Sweets is one of Milwaukee's first to offer a full array of traditional Vegetarian Indian cuisine and Sweets.
Bombay Sweet's menu focuses on both the northern and southern cuisines of India. Along with their freshly prepared home-style vegetarian specialties, they also offer an array of Indian sweets and snacks to bring home a little part of India. Their in house sweets consist of a variety; Gulab Jamun, Rasgulla, Jalebi and our famous Ras Malai. The snacks they offer range from sweet and salty to extremely spicy.
The owner contacted Restaurant Furniture.net to buy new seating. He chose Restaurant Furniture.net because of their reputation as a valued manufacturer of high quality commercial furniture and competitive prices.
For new seating the owner decided to go with classic Premium US Made Ladder Back Wood Chair in cherry finish with solid wood seats. Like most of Restaurant Furniture. net's wood furniture, the Premium US Made Ladder Wood Chairs and other wood chairs and bar stools are made in the USA of solid wood from responsibly harvested wood. The wood bar stools are available in 5 standard finishes: mahogany, walnut, natural, cherry and dark mahogany.
"The Premium US Made Ladder Back Wood Chairs were just what the owner wanted to complete the classic look he was going for" said David M., salesperson for Restaurant Furniture.net. "The ladder back chair the most popular restaurant chair in America". The Premium US Made Ladder Back Wood Chairs sells for $78 and Premium US Made Ladder Back Wood Bar Stool is also available and sells for $91. Restaurant Furniture. net also makes custom finishes for an additional charge. Customers also have the choice of vinyl padded seats, which are made in the U.S.A. are available in vinyl or fabric in a wide selection of colors and patterns and can also be custom made out of any material to the customer's specifications. Solid wood seats are also available and a custom finish can be made for an additional charge.
Browse Restaurant Furniture.net's full selection of commercial grade chairs, bar stools, table tops, table bases, booths and patio furniture at http://www.restaurantfurniture.net or talk to a customer service representative at (888) 409-1115.
Bombay Sweets is located at 3401 S 13th St. in Milwaukee, WI. They can be contacted at: (414) 383-3553.