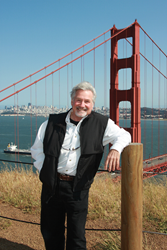 We are excited to announce a stellar roster of speakers and presenters who will educate and inspire attendees.
San Francisco, Calif. (PRWEB) September 23, 2014
Newport, Rhode Island, a jewel in historic New England, is the venue for the International Tour Management Institute (ITMI) Symposium. The ITMI Symposium, to be held January 25th - 29th, 2015, is a unique tourism industry conference that brings together domestic and international tour operators, meeting planners and tour directors for interactive seminars and continuing professional education. Industry stakeholders share valuable market intelligence about consumer preferences and trends. Familiarization trips highlight the history and the many unique attractions the area offers.
Confirmed speakers include Martha Johnson, former Administrator, U.S. General Services Administration and author of On My Watch: Leadership, Innovation & Personal Resilience. Elizabeth Becker, former New York Times correspondent and author of OVERBOOKED: The Exploding Business of Travel & Tourism. Lisa Simon, who for 28 years served as the visionary leader of the National Tour Association. Gary Lindberg, award-winning television and film writer and director.
"Newport's breath-taking natural beauty and rich cultural heritage make this an ideal venue for our annual conference," states Ted Bravos, CEO of ITMI. "We are excited to announce a stellar roster of speakers and presenters who will educate and inspire attendees."
About the ITMI Symposium:
For the past 28 years, the ITMI Symposium has attracted leading tour operators such as Globus Family of Brands, Tauck World Discovery, Adventures by Disney, Trafalgar Tours, Collette Vacations, World Strides, Smithsonian Student Travel, Princess and Holland America Cruise lines to name but a few. The event includes interactive seminars and educational programs that provide forward-thinking content about industry trends and mission critical technology.
About ITMI:
Since 1976, ITMI has been America's premier training and certification program for professional tour directors, guides and travel staff. For more information about ITMI or the Symposium, contact Annemarie Osborne Annemarie.Osborne(at)gmail(dot)com (800) 442-4864 (415) 957-9489 or visit http://www.itmisf.com.
# # #