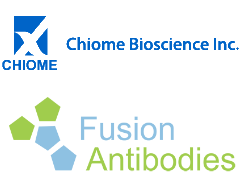 Belfast, UK/Tokyo, Japan (PRWEB UK) 24 September 2014
UK based contract research organisation Fusion Antibodies has signed a material transfer agreement with Tokyo based biotechnology company Chiome Bioscience, inventors of the ADLib® system, to design a humanize antibody using Fusion Antibodies in silico humanization platform. The collaboration will allow Fusion Antibodies to expand its CDRx Humanization platform which has already proven highly successful with Murine, Rat and Rabbit sequences.
The ADLib® system is an innovative technology for antibody generation by leveraging gene conversion of chicken DT40 cells. It generates antibodies quite fast, potentially in about 10 days entirely in vitro. Also it generates antibodies with, theoretically, unlimited diversity, which allows for the development of antibodies that have been considered to be difficult by currently available methods. Chiome has also successfully developed libraries that generate directly human IgG antibody from DT40 cells. ADLib® is the trademark of Chiome Bioscience.
Fusion Antibodies anticipate that its robust in silico computer CDRx platform and expertise will allow a rapid and successful humanization of a new species. The project is due to commence with results expected towards the end of 2014.
About Fusion Antibodies
Fusion Antibodies; a UK based life science company, with innovative technologies and world-class expert services for antibody drug discovery, are specialists in production of High Quality Humanized Monoclonal Antibodies and Antibody Engineering Projects. With 12+ years of experience in the medical research industry, including two Antibodies in clinical and pre-clinical trials, Fusion Antibodies have extensive experience in accelerating therapeutic drug research towards the clinic.
Fusion Antibodies has the knowledge and expertise to build and deliver a bespoke package of the services you need to achieve outstanding results. They provide Royalty Free Antibody Humanization of Monoclonal Antibodies and using their next generation in silico CDRx™ technology, they have modernized the traditional CDR grafting technique. Fully humanized monoclonal antibodies are an essential step in the progression of therapeutic drugs to the clinic and the in-house expertise at Fusion Antibodies ensures its success.
Visit their website at http://www.fusionantibodies.com to find our more
About Chiome Bioscience Inc
Chiome is a Japan-based biotech company specialized in antibody and technology development. It has developed an innovative and unique platform technology, ADLib® system. Since 2008, it has been engaged in joint research and the generation of antibodies with a number of leading domestic and multinational pharmaceutical and diagnostic companies. Chiome offers ADLib® system to partners under a non-exclusive license to maximize the value of the technology. By leveraging this proprietary technology Chiome bioscience believes it can make great contributions to pharmaceutical development.