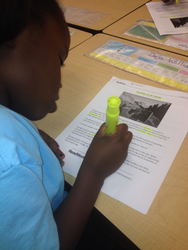 Some students just learn better in a different environment, with an individualized focus and approach. That's what we offer at Imagine Schools. – Jennifer Keller
Columbus, OH (PRWEB) September 23, 2014
Imagine Schools, a national network of public charter school campuses, announced that, in a side-by-side comparison, several of Imagine Schools' campuses had outperformed peer public schools in nearby Columbus and Groveport area neighborhoods.
"Can you imagine that a charter school alternative to a public school could get an A from the State of Ohio school building report card for value-added, while a nearby public school receives only a C?," said Jennifer Keller from Imagine Schools. "It's not only possible, but it is happening. Over the past year, we have introduced a new Academic Excellence Framework of instructional best practices and an intensive 8-step continuous improvement process that equips teachers to better use data to identify individual student strengths and weaknesses. We are excited about the results of these efforts as demonstrated in student achievement."
Imagine Sullivant, a K-6 school located in Columbus' Hilltop neighborhood, has received an A rating for value-added two years in a row, for both 2013-2014 and 2012-2013. The performance index of that school has also exceeded a score of 76 for both years. In comparison, Sullivant Elementary, a nearby public school, received a D on value-added and a performance index of 57.3%.
Imagine Groveport, a K-8 school, received an A this year on its 2013-2014 value added score from the state and a score of 84 on it's performance index. By comparison, the nearby public school, Groveport Elementary, received a C and a score of 76, while Glendening Elementary, also in Groveport, received an F and a score of 73.4%.
"It is important to recognize that charter schools, like public schools, do have challenges," said Jennifer Keller. "But charter schools can often adapt more quickly to meet the needs of individual students, helping them learn more within a single year's time, and, establish a culture that prepares students for success in school and in life. The results we are seeing at these two campuses show this is possible."
"Public schools can be great for some students," said Jennifer Keller. "But they're not for everyone. Some students just learn better in a different environment, with an individualized focus and approach. That's what we offer at Imagine Schools - a more personalized learning environment with high expectations for every student."
About Imagine Schools
Imagine Schools is a national network of 67 public charter schools educating more than 36,000 students in 11 states and the District of Columbia. Imagine Schools partners with parents and guardians to educate their children, providing high quality schools that prepare students for lives of leadership, accomplishment, and exemplary character. Learn more at ImagineSchools.com