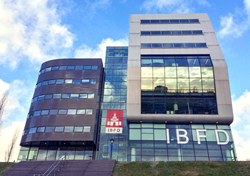 Amsterdam, The Netherlands (PRWEB UK) 24 September 2014
The Netherlands is offering the tax administrations of nine African countries a five-day training in Maintenance and Administration of Tax Treaties from 29 September to 3 October 2014. This training, taking place at the IBFD premises in Amsterdam, forms part of the Dutch program to strengthen tax administrations in partner countries.
IBFD, being an internationally recognized knowledge institute with long-standing experience in international tax matters, drafted a one-week program aimied at convincing the participating tax administrations of the importance of keeping tax treaties up to date and applying them as envisaged.
Tax treaties play an important role in facilitating investments, but older treaties, if not kept up to date, may lead to losses in revenue due to aggressive tax planning. The training therefore includes a discussion on the concepts and principles of international tax law, and on how these concepts are applied in business structures.
The program aims to equip the participants with the skills required in dealing with international tax situations, and to show them what questions to ask, what the different approaches of national tax systems to the most important issues are, and how to apply double taxation treaties in practice.
An important feature of the training is the familiarization with IBFD's extensive database on tax treaties (Global Tax Explorer, see http://www.ibfd.org for more information). The Dutch government also offers participating countries a subscription to this database after completion of the course.
Countries benefiting from this initiative are Ghana, Malawi, Uganda, Zambia, Kenya, Zimbabwe, Rwanda, Ethiopia and Tanzania (including Zanzibar).