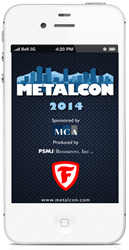 Columbia, MD (PRWEB) September 25, 2014
a2z, Inc is pleased to announce that METALCON will offer a2z's suite of social and mobile solutions for the third year in a row, ChirpE Mobile App and ChirpE PhotoBooth, to engage attendees at their annual conference and expo. METALCON is the largest international event dedicated uniquely to metal in construction. This event will take place October 1-3, 2014 in Denver, CO.
The a2z-powered ChirpE mobile event app features the complete conference schedule, event announcements, and social media posts – all in real-time and synced from the event website – providing for an enhanced experience. App users can add their favorite exhibitors and selected sessions to their personalized planner and use the walking map to navigate the Expo floor, making the app an effective time management tool for METALCON. All the event news and tools are now accessible on-the-go and in one place.
In addition, app users can access information about the Learning Zones, quick technical demos featuring the latest field techniques and product applications. Attendees can view the booth locations and the schedule for the Learning Zones within the app. The METALCON 2014 mobile app is available for iPhone/iPad and Android phones as well as all internet-enabled smart phones.
During METALCON, attendees can share their experience with their friends and colleagues by using ChirpE Photo Booth – an experiential and social media based solution deeply integrated with Facebook and Twitter in real-time. Photo booth users take their photo, type a testimonial about why they love METALCON and the photo is instantly shared on METALCON's Facebook and Twitter pages. Users will have the opportunity to win a $100 gift card for the photo that receives the most likes on Facebook.
METALCON 2014 will showcase the latest equipment and services in the metals industry. This premiere industry event will attract professionals, such as residential and roofing contractors, architects, engineers, developers, facility managers, fabricators and building owners. METALCON offers attendees the opportunity to learn more about the application of metal in roofing, residential, commercial, industrial, institutional and municipal construction, as well as networking opportunities with industry peers and colleagues.
For more information about the event, please visit http://www.metalcon.com
About a2z
a2z, Inc. provides powerful web-based event management tools that grow your show by increasing and accelerating booth sales, helping boost revenue, and enhancing engagement and value for everyone. Our clients benefit from increased connectivity with their audience via an improved website for their attendees and exhibitors and both web-based and native mobile app solutions. To fulfill our goal of developing quality solutions that help save money and meet your needs, a2z offers three platforms as one integrated solution: Expo & Conference Management, Networking & Lead Management, and ChirpE Mobile- which includes our web-based and native mobile apps for smart phone and tablet devices.
About METALCON
METALCON is the largest international event in the metal construction industry for metal construction products, technologies and solutions. Since launching in 1991, METALCON has remained the only annual tradeshow and conference devoted entirely to the application of metal in industrial, institutional, light commercial and residential projects. Unique in both its service and show management to this vibrant industry, METALCON consistently provides new features highlighting the latest products, technologies, and trends. Its success is based on three key methods of education: exhibits, an extensive conference program and interactive, live demos. METALCON is sponsored by the Metal Construction Association and produced by PSMJ Resources Inc.