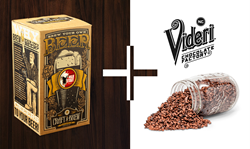 We love being able to collaborate with businesses who share our commitment to quality...By modifying our recipe to include this collaboration with Videri, we are making this great kit even better. -Kyle Westfall, Craft a Brew
Orlando, FL (PRWEB) September 24, 2014
Craft a Brew (http://www.craftabrew.com), maker of craft beer-inspired home beer brewing kits announced a collaboration with Videri chocolate factory. Craft a Brew's popular Chocolate Milk Stout homebrew recipe and beer brewing kit will now include Videri's cocoa nibs, an exclusive collaboration with the Raleigh, North Carolina-based chocolate factory.
To celebrate this collaboration, Craft a Brew will be doing a giveaway of the Chocolate Milk Stout Brewing Kit to their Facebook fans, starting 12pm EST Thursday 9/25/14 and ending 5pm EST Monday 9/30/14.
Known for their small-batch home brewing kits featuring creative craft beer recipes, Craft a Brew's mission has always been to provide an affordable yet high-quality brewing kit for home brew novices. Kyle Westfall, Craft a Brew founder, home-brewer and self-professed craft beer geek, says that their commitment to innovative home brew recipes using the highest quality ingredients lead to the decision to collaborate with Videri Chocolate Factory, a business he says shares much of the same emphasis on craft and quality.
"We love being able to collaborate with businesses who share our commitment to quality and truly take pride in the product they produce," says Westfall. "The Chocolate Milk Stout beer brewing kit has always been a favorite, and our customers love being able to easily brew this complex and tasty craft beer at home. By modifying our recipe to include this collaboration with Videri, we are making this great kit even better."
The Videri cacao nibs were selected specifically for their distinct character and compatibility with the Craft a Brew Chocolate Milk Stout recipe. Sam Ratto, chocolate maker with Videri Chocolate Factory, worked with Westfall to select the perfect cacao nibs for the brewing kit.
"These wonderful and aromatic nibs come from the Dominican Republic," said Ratto. "We receive the beans and hand sort each bag to ensure only the best beans are roasted. When roasting this variety of cocoa, we look to highlight the ripe cherry and deep cocoa aromas. The result is a nib that is as versatile as it is dynamic; perfect for a straight-forward stout or fruit forward beer."
The Chocolate Milk Stout home beer brewing kits and recipes, featuring Videri cacao nibs, are available for purchase on the Craft a Brew website.
For more details on how to win one of these home brew kits, as well as craft beer news, homebrewing tips, and resources, "Like" Craft a Brew on Facebook.
About Craft a Brew:
Started by craft beer and home brewing enthusiast Kyle Westfall, Craft a Brew's mission is to deliver high-quality, small-batch home beer brewing kits and products at an affordable price. Craft a Brew kits include everything you need to brew your own craft beer at home, and they offer kits in many craft beer styles and flavors. Craft A Brew is based in Orlando, FL. To order kits, or inquire about retail sales or collaboration opportunities, please visit http://www.craftabrew.com.
About Videri:
Videri Chocolate Factory, based in Raleigh, NC, began as the dream of three chocolate lovers and is founded on three core tenets: quality of product, friendly customer service, and social responsibility. Videri's "bean to bar" chocolate can be purchased online at http://www.viderichocolatefactory.com and their chocolate factory is open to the public for anyone who wants to see the chocolate making process first-hand.