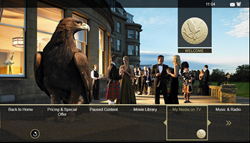 The deployment of the Sensiq Platform delivers all of the services Gleneagles required, but also offers the added value that it can easily accommodate future technologies, which will benefit all of our customers now and in the future.
Theale, Berkshire (PRWEB UK) 24 September 2014
Quadriga Worldwide, a leading international provider of technology based managed services, has announced the completion of a major technology upgrade at the world-famous Gleneagles Hotel.
Gleneagles has an enviable reputation as one of the world's finest resort hotels, and has invited Quadriga to assess its current television, wireless and technology infrastructure as part of a commitment to ensure that the technology in the hotel contributed to enhancing an already world class guest experience. It was also imperative that the hotel would also be able to easily add additional services for guests in the years ahead.
David Kemp, Finance Director at Gleneagles Hotel said, "We worked with Quadriga to overcome a range of technology challenges to ensure we have an integrated platform that allows the hotel to continue delivering a leading experience for our customers. The deployment of the Sensiq Platform delivers the services we needed today, but also offers the added value that it can easily accommodate future technologies which will benefit all of our customers now and in the future".
Initial analysis by Quadriga suggested that moving to IP-based platform and technologies would help the Gleneagles Hotel to ensure their systems were as future proof as possible. In addition to being more cost-effective to run, the improved network and platform enabled Gleneagles to deliver new services such as extended WiFi coverage, world class in-room entertainment with content streaming, mobile control of TV through a guest device, and support for guests 'bringing their own devices/content'. Quadriga's Sensiq platform was also able to be deployed over existing cabling and infrastructure to reduce disruption and the cost of transitioning to a new solution.
James Cannon, Sales Director, UK & Ireland, Quadriga commented, "Gleneagles' customers expect the best, and we believe the Quadriga solutions will help the hotel surpass their expectations both today and in the future. We are delighted to have been able to provide a significant technology update for Gleneagles that both provides a better customer experience today and will continue to grow with the hotel and the needs of its guests in the future".
As part of the technology upgrade, Quadriga also migrated a range of Gleneagles legacy services and applications including security onto the new IP based backbone to simplify management and to lower running costs.
James Cannon continued, "We worked hard to give Gleneagles comfort by bringing in highly skilled resources from Project Management, Installation, Contractors, Support agents, local field service teams and the complete support and buy-in from the Quadriga senior management in addition to our technology platforms and solutions. We believe these aspects have significantly contributed to the success of the project".
David Kemp, Finance Director of Gleneagles added, "With Quadriga, we not only looked for a supplier who could deliver us a great upgrade of our Hotel technological platform for today but also one with a roadmap of future developments and enhancements. We feel that we've achieved this and we're now well placed with capacity to grow, which will bring continued and ongoing benefit to our guests and visitors".
==Ends==
About The Gleneagles Hotel
The Gleneagles Hotel was built in 1924 and is situated in 850 acres of beautiful Perthshire countryside, just one hour's drive from Edinburgh and Glasgow. The hotel is a haven of luxury British heritage that offers a five star hotel experience. With 232 elegant rooms, including 26 suites, the hotel provides some of the finest accommodation in Scotland. Not only home to three of the finest championship golf courses in Europe and an award-winning ESPA spa, the hotel also hosts an array of activities from Falconry to off-road Land Rover safaris. This year, Gleneagles will host the 40th biennial Ryder Cup, marking the first time since 1972 that the competition has been hosted on Scottish soil.
About Quadriga
Quadriga is the single partner to the global hospitality industry, integrating TV and Mobile communications platforms, Internet, Network and Multi Media solutions to deliver operational efficiencies and new revenue opportunities, enabling customers to better compete in an interactive, interconnected and globally accessible world.
Quadriga has over 30 years experience serving the hospitality sector, supporting 345,000 guest rooms and is the number 1 in Europe and the number 2 globally. The company has unrivaled expertise and over 10 years experience in managing hotel networks, Internet provision and digital IP systems, with over 120,000 Internet rooms.
Through an ever-growing portfolio of products, services and content, proprietary to Quadriga or via 'best-in-class' partners, Quadriga provides customers with the flexibility and reassurance that they can obtain a complete and relevant technology solution that meets their business revenue, guest satisfaction and operational efficiency targets, all from a single, global partner.
Quadriga's range of TV and mobile communications platforms, easy-to-use guest Internet solutions, network management, consultancy and delivery services and multimedia content means it can work with its customers to converge today's disparate technologies to create a technology ecosystem that delivers unequalled guest service and hotel operational efficiency.
As the hospitality sector expands globally, Quadriga's global footprint extends across Europe, the Americas, the Middle East, India and key parts of Africa. Plans are also in place to expand into Australasia and South America. This is being achieved through a combination of Quadriga's own operations and a distribution model into selected countries and territories.
The company will continue to leverage its capabilities, its partnerships and deep knowledge of the hospitality sector to create solutions that harness the latest technologies and meet ever evolving customer needs and guest expectations.
Press Contact
Vicky Daniels
Group Marketing Manager
Quadriga Worldwide Ltd
Telephone - +44 (0) 118 916 7181
Email - Vicky.Daniels(at)quadriga(dot)com