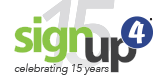 Atlanta, GA (PRWEB) September 24, 2014
Founded in 1999, Atlanta-based SignUp4, an event management software provider, has been working relentlessly to improve the quality of events and to support the roles of event professionals. This year they proudly celebrate 15 years of success.
After discovering the opportunity and need for more simplified, organized event processes during the 1996 Olympics, the three founders collaborated to build technology that would forever transform the way event planners manage the multitude of event details from online registration to hotel rooms and flights.
From its beginning, with a handful of employees and one major client, SignUp4 has grown to a top competitor in the event management software industry with clients from Atlanta and around the world. SignUp4 was funded by its founders and continues to maintain its Atlanta roots with in-house development and support.
Company co-founder and President, Nick Romano, beamed with pride when discussing his organization's achievements.
"Our success has stemmed from the contributions of our amazing team, the ongoing commitment of our clients and the drive to not just meet the demands of an evolving industry, but to proactively bring new functionality to a group of exceptionally hardworking event and travel professionals."
SignUp4 continues to expand its offerings and partnerships to better serve their clients. Commitment to quality development and support are what help them to invest in their clients' success.
To celebrate this year's milestone, SignUp4 used its own online event registration technology to host a corporate celebration. The team built a customized event registration site with a customized template, hosted promotional videos, had employees register, distributed automatic email confirmations and promoted the event's agenda.
With an old Hollywood theme, the attendees entered the red carpet and were checked in using SignUp4's Kiosk tool to scan badges and quickly move attendees into the main event. As an industry best practice and to continue the conversation after the event, the marketing team posted a slideshow and celebration of 15 years video.
About SignUp4
SignUp4 is the innovative event management technology provider offering the highest quality strategic meetings management solutions with an affordable unlimited usage model. The goal of SignUp4s meetings intelligence suite is to streamline workflows, simplify and drive registrations, efficiently manage travel logistics, improve communications, and provide visibility into meeting spend for leveraging contract negotiations and increasing ROI. With over a decade of experience, 3,500 users and over 80 of the Fortune 500, we understand the value of your time and events. Learn more at http://www.signup4.com follow us @SignUp4.