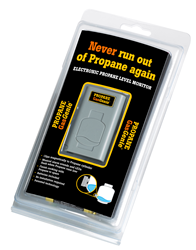 "The musical alarm alerted me when my propane tank was low. It worked great and I knew this was a quality product that would benefit dealers and their customers in my sales region." Lee Shafer, Associated Products
Princeton, NJ (PRWEB) September 24, 2014
The Propane GasGenie had been on sale on Amazon for just a few months when Lee Shafter of Associated Products, based out of Siren, Wisconsin, contacted the Propane GasGenie exclusive US distributor (CEP) after discovering it online. He requested a sample and installed it on his own gas grill and then forgot it was there! "The musical alarm alerted me when my propane tank was low. It worked great and I knew this was a quality product that would benefit dealers and their customers in my sales region." He goes on to say "I've tried several different products for monitoring the propane in grill cylinders and this product is by far the most satisfactory. It's the only monitor I've found that actually works!"
The Propane GasGenie works on a different physics principle to the common pressure gauge. It detects small changes in temperature of the tank wall over time. The software looks for a 'signature' profile and then alarms by playing a tune and flashing its LEDs when the liquid level in the tank gets down to around 20%. So in plenty of time to finish grilling, and even grill a few more times before getting the tank refilled. This is in contrast to the pressure gauge type, which because of the way liquefied gases work can only give a few minutes warning at best.
Peter Frank, the inventor of the Propane GasGenie and owner of CEP says, "We were tipped off to the problem associated with pressure gauges by a major US grill manufacturer. The time temperature profile that the Propane GasGenie looks for came about following a lot or detailed research into how BBQ tanks react as gas is burned off. Once we had found the correct formula the task was to put in into a neat and easy to use product. The Propane GasGenie is the result. And we are proud that it requires no installation and actively warns the user when the gas is getting low. It is the only product that does this."
As result of the Lee's chance discovery he has now gone on to sell more than 200 Propane GasGenie, selling to propane dealers throughout the American Midwest, including Minnesota, Wisconsin, Michigan's Upper Peninsula. And each order has been larger than the previous one. As significant is the fact that customers are now re-ordering the product.
About Creative Electronic Products Inc.
CEP was founded in 1983 to search worldwide for unique and useful products to bring to the US market. The Propane GasGenie is their first product. It is sold on Amazon and also to retailers and manufacturers reps throughout the US. Visit http://www.cepinc.biz for additional information about Creative Electronic Products Inc. More information about Propane GasGenie can be found at the following site: http://www.propanegasgenie.com.
Contact: admin(at)cepinc(dot)biz