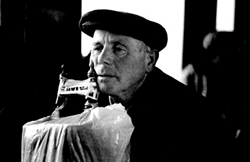 New York, New York (PRWEB) September 23, 2014
Few events in recent history have been as momentous and consequential as the fall of the Berlin Wall. This autumn, which marks the 25th anniversary of this event, The Anne Frank Center USA is proud to host "Fragments: Jewish Life in Central and Eastern Europe 1981-2007" by photographer and musician Yale Strom, a collection of 36 photographs and sheet music that explore the Post-War traditions of Central and Eastern Europe's remaining Jewish communities.
As part of this exhibit, The Anne Frank Center USA will be hosting two events:
"Carpati: 50 Miles, 50 Years," a film by Yale Strom
Tuesday, October 7, from 6:30-8:00
In 1931, the Jewish community of the Carpathian region (then in Czechoslovakia, today Ukraine) numbered a quarter of a million Jews. Today, sixty-five years later, there are fewer than 1,500. This beautiful and moving documentary, narrated by Leonard Nimoy, presents the rich Jewish culture that once thrived in the Carpathian Mountains.
Yale Strom & Hot Pstromi present:
Fragments – Klezmer from the Hinterlands of Eastern Europe
Thursday, October 16, from 6:30-8:00
Over two decades and dozens of research expeditions, Strom has become one of the world's leading scholar-ethnographer-artists of klezmer music and history. He is also a highly skilled violinist. Join him, Elizabeth Schwartz, Norbert Stachel, and Peter Stan as they perform music from Eastern Europe, combining klezmer with Roma, jazz, classical, Balkan and Sephardic motifs.
Both events will be held at The Anne Frank Center USA at 44 Park Place, New York, NY.
$8 adults; $5 students and seniors (65 and over)
Space limited
Reservations Recommended
212-431-7993 - info(at)annefrank(dot)com
The exhibit and events are made possible by The New York Department of Cultural Affairs, The Puffin Foundation, and The Anne Frank Center USA, and is sponsored by The Hungarian Consulate and the Polish Cultural Institute.
The Anne Frank Center USA, a partner organization of the Anne Frank House, uses the diary and spirit of Anne Frank as unique tools to advance her legacy, to educate young people and communities about the consequences of intolerance, racism and discrimination, and to inspire the next generation to build a world based on mutual respect. http://www.annefrank.com