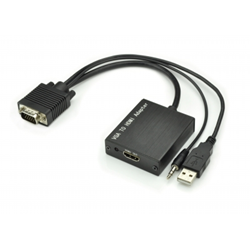 (PRWEB) September 24, 2014
Recently, Hiconn Electronics, a well-known electronics accessory manufacturer, has unveiled its new range of VGA with Audio to HDMI Converters. Additionally, it has updated its product and launched a promotion for these new items.
"We are happy to release our new collection of VGA with Audio to HDMI Converters. We have listed all the information about these new items on our website, because we want to help clients make a shopping decision more efficiently. It is true that our VGA with Audio to HDMI Converters are made from durable materials. Now, all of them are offered at discounted prices, up to 30% off. All clients who place an order before July 01 can enjoy the special offer," the CEO of the company says.
Along with VGA with Audio to HDMI Converters, Hiconn Electronics is also offering thousands of practical products on its website, including USB 2.0 100M Ethernet Adaptors, 4-Port USB3.0 HUBs, HDMI to VGA+Audio Converters, HDMI Extender Adapters and many others. According to the company's chief executive officer, worldwide clients can see the detailed information about the new items on its website.
Some detailed information about the company's VGA with Audio to HDMI Converters is as follows:

Aluminum shell for better cooling capabily
Compliant with HDMI 1.3
VGA input: 640*480@60Hz, 800*600@60Hz, 1024*768@60Hz, 1280*720@60Hz, 1280*768@60Hz, 1280*800@60Hz, 1280*1024@60Hz, 1360*768@60Hz, 1600*1200@60Hz, 1920*1080@60Hz, 1920*1200@60Hz
Audio for input – 3.5mm
HDMI output – up to 1080P
On its website, clients can always get practical products at affordable prices. Owing to its simplified buying process, worldwide people don't need to spend much time to order what they want. As a pioneer in the industry, Hiconn Electronics often runs in front of other companies. It offers thousands of top quality items for distributors.
About Hiconn Electronics
Hiconn Electronics (Shenzhen Hiconn Electronics Co. Ltd.) is devoted to designing and manufacturing a wide range of connection cables and customized cable assemblies, offering many HDMI cables, VGA cables, SATA cables, USB cables, 1394 cables, DVI cables, SCSI (Small Computer System Interface) and more. For more information, please visit http://www.hiconn.net/.
Contact Person: James Yin (Sales Director)
Company Name: Shenzhen Hiconn Electronics Co., Ltd.
Address: Shenghua Building., Xixiang Road., Baoan District, Shenzhen, Guangdong Province, China
Zip Code: 518102
Tel: +86-755-8109 8345
Fax:+86-755-2779 3497