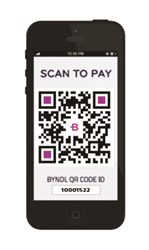 Mobile apps can be used in the vending industry for much more than payment transactions. Operators seek the kind of engagement that consumers have in retail.
Seattle, Washington (PRWEB) September 23, 2014
Mobile managed services provider BYNDL Inc. is launching a new service to help vending operators improve business results. The BYNDL mobile payment and customer engagement platform increases customer satisfaction and extends consumer relationships beyond the point of sale. BYNDL developed this service to help operators increase revenues, loyalty and customer engagement by leveraging the fast-growing consumer adoption of mobile technology.
Using the BYNDL mobile app, consumers can pay for vending purchases with their mobile devices – a payment method that is growing in popularity, as evidenced by the success of the Starbucks mobile app. According to Business Insider, the Starbucks app processed more than $1 billion in mobile payments last year, proving that consumers will use an app for mobile payments and loyalty at frequently visited locations. BYNDL enables operators to grow revenues by offering more payment choices; in addition to Visa and MasterCard credit, consumers can pay with American Express, MasterCard debit, PayPal and Apple Pay through the BYNDL app.
The BYNDL app enables operators to provide in-app customer support for their vending machines and micromarkets. Consumers can now report issues directly to operators through the mobile app, allowing operators to reduce hassles for location managers and eliminate the cost of truck rolls for refunds.
"We are taking mobile services a step further by giving operators a way to improve customer support at the machine," said Lori Salow Marshall, founder and CEO of BYNDL. "The BYNDL app will know which consumer is engaged at a specific machine, enabling the operator to decide how best to support that specific request. It's a 'win-win' situation that saves operators money and delights consumers."
The BYNDL mobile platform is unique in its ability to collect consumer preference and purchase data. Operators can use that data to better understand each consumer's history across all machines, dates and locations and provide more targeted and personalized offers. The end result is that operators increase revenues and consumers get what they want more often.
"Mobile apps can be used in the vending industry for much more than payment transactions," continued Marshall. "Operators seek the kind of engagement that consumers have in retail. Studies show that engaged consumers make over 50% more visits to 'destination' retail. Mobile apps make new consumer connections possible – driving sales, service and loyalty. For the first time, operators can see buyers as people with individual preferences and behaviors rather than just faceless transactions."
The BYNDL platform provides a set of services that enables the operator to engage with consumers in ways that only mobile can support. BYNDL is an open platform that can work with any mobile device, VMS, hardware, mobile app and payment processor. Marketing campaigns and loyalty programs may be delivered in the stand-alone BYNDL app or through other apps or games where BYNDL software is embedded.
About BYNDL
BYNDL Inc., based in Seattle, is a mobile managed services provider that empowers unattended retail with a mobile payment and customer engagement platform. The BYNDL platform provides a combination of mobile tools and services to drive sales, loyalty programs, demand generation and in-app customer service, providing a personalized experience for consumers at kiosks, micromarkets, digital signs and vending machines. BYNDL uses mobility to transform anonymous unattended retail transactions into a tailored, high-touch, interactive experience for brands, operators and retailers to connect with their consumers. For more information, please visit http://www.byndl.com.
# # #