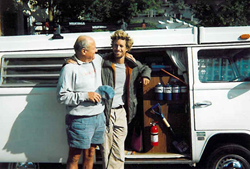 Dean Woodman brings his experience to Triad Semiconductor's board
Winston-Salem, N.C. (PRWEB) September 25, 2014
Triad Semiconductor, Inc. today announced that Dean Woodman West Coast investment banking pioneer and former Chairman of GoPro Inc. was appointed to the company's board of directors.
Dean Woodman is a pioneer of West Coast investment banking and venture capital in San Francisco and Silicon Valley and has over 50 years as a principal investor, board member, consultant to public and private companies including mergers and acquisitions, public offerings, and private equity and debt placements. Mr. Woodman was a Managing Director of ING Barings LLC (and its predecessor Furman Selz), an international banking firm, from July 1989 to June 1999 and Managing Director in the investment banking group of Hambrecht & Quist from October 1984 to March 1988. Mr. Woodman was a founding partner of Robertson Colman Stephens & Woodman in 1978 and of Woodman, Kirkpatrick & Gilbreath in 1982. Previously, Mr. Woodman worked in the investment banking division of Merrill Lynch for 23 years, where he spent 16 years as Director of West Coast corporate finance operations until 1978.
Mr. Woodman previously served as Chairman of both Woodman Laboratories, Inc. (dba GoPro, Inc.) He is a graduate of Amherst College (1950), and he served as a U.S. Navy carrier pilot from 1951 to 1962.
"Dean brings exceptional business expertise and we are delighted that he is joining Triad's board of directors," said Lynn Hayden, Triad CEO and chairman.
ABOUT TRIAD SEMICONDUCTOR
Triad designs and manufactures custom mixed signal integrated circuits. Triad helps high volume consumer, automotive and cellular designers get products to market quickly. Triad delivers the lowest total cost of ownership in custom IC development empowering lower volume partners in industrial, medical and defense applications access to custom ASIC benefits. Triad provides full custom ASIC solutions and partially or completely reconfigurable Agile ASIC™ solution.
RAPID INTEGRATION WITH TRIAD'S AGILE ASICS
Triad is a true ASIC partner. Making ASICs is Triad's sole focus. Companies are seeking to differentiate themselves in the marketplace through custom electronics. Triad is a one-stop, full-turnkey development partner for the creation of custom ASICs. Triad supports customers with a world-class IC design team, a rigorous, quality-focused development process and unique Agile ASIC technology.
AGILE ASIC TECHNOLOGY
Triad develops highly-optimized full-custom analog and mixed signal IC solutions. Unique to Triad, these mixed signal ICs are reconfigurable through "via-only" mask changes.
A Triad Agile ASIC delivers:
Unit pricing optimized for high volume production
Fast-Time-to-Market
Ability to respin ASICs in weeks not months
Low risk development with proven reconfigurable IP
ASIC PRODUCTION PARTNER
Triad develops ASICs and provides a world-class semiconductor supply chain. Customers in high volume markets, like consumer and cellular, trust Triad to handle the introduction, production ramp, and high volume production of their products. In long life cycle markets such as automotive, industrial, medical and defense, customers count on Triad to supply mission critical ASICs well into the next decade.