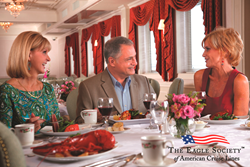 We created the referral program to encourage and reward guests for referrals, while also heightening their cruise experience with us. - Timothy Beebe, Vice President, American Cruise Lines
Guilford, CT (PRWEB) September 23, 2014
American Cruise Lines (http://www.americancruiselines.com), operator of the newest riverboats and small cruise ships in the United States, announced today its new referral program, a feature of its loyalty program, the Eagle Society. Rolled out over the last few months, the referral program has been well-received by guests, many of which have already taken advantage of the benefits, which include:

$500 savings per stateroom on their next cruise – Each time a guest refers a friend or family member, upon their completed booking, they enjoy $500 savings on their next cruise of choice.
Automatic induction to Eagle Society for referral– If cruising together, a guest's referral receives immediate upgrade to Eagle Society status, so both groups can enjoy membership perks together.
"Sharing a trip with those closest to you makes for a most memorable and enjoyable experience," said Timothy Beebe, Vice President of American Cruise Lines. "We created the referral program to encourage and reward guests for referrals, while also heightening their cruise experience with us. It's a great initiative for everyone involved and we look forward to the program's continued success."
American Cruise Lines boasts one of the highest repeat passenger rates in the industry, hosting guests time and time again on its 35-plus itineraries. The Eagle Society, which was established in 2008, is the line's way of rewarding returning customers. The referral program is an extension of this effort to give back to loyal guests, while also introducing American Cruise Lines to those who have not yet had the opportunity to sail with it.
About American Cruise Lines
American Cruise Lines is the largest U.S. cruise company and operates the newest fleet of riverboats and small cruise ships on more than 35 itineraries around the country. The line is known for working closely with guests and travel agents before, during, and after a cruise to create a highly personalized cruise experience. Long established and deeply experienced in cruise travel, American Cruise Lines has most recently received world-wide recognition as the first line to revive paddlewheel river cruising in America. To learn more about American Cruise Lines, visit http://www.americancruiselines.com or call 800-814-6880. Find us on Facebook at http://www.facebook.com/americancruiselines or follow us on Twitter at http://www.twitter.com/american_cruise.
###