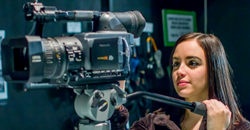 Pittsburgh, PA (PRWEB) September 24, 2014
Pittsburgh Technical Institute (PTI) has announced the availability of $60,000 in new tuition scholarship programs designed to recognize inspiring acts, achievements in social change and school spirit among members of the high school graduating class of 2015.
The PTI Promote Change Scholarship competition calls for 2015 high school graduates to design a campaign for social change which includes three projects such as a speech, rally, poster, website or fundraiser. The project must also demonstrate use of social media and a minimum of 100 community service hours. Eligible seniors can earn one of five $7,000 partial tuition scholarships by submitting a complete campaign by June 6, 2015.
A High School Spirit Banner Competition challenges students to illustrate what their school means to them by creating a banner that reflects school pride. Banners must feature creative use of the school name, colors, mascot and logo by January 2, 2015. Five high school seniors can win a $3,000 partial tuition scholarship to Pittsburgh Technical Institute and have a full-size banner of their design presented to their high school.
Two new essay competitions will recognize student reflections for both seeking and providing inspiration with $1000 tuition awards. The Inspiration Scholarship asks high school seniors to write about the individual and/or event that has impacted their life and submit one entry by February 28, 2015. Conversely, the I Inspire Scholarship calls seniors to describe how they have served someone else in a meaningful way by creating an essay March 31, 2015.
To help high school seniors interested in competing for one or more of these new scholarships or any of the college's 2015-specific scholarships, PTI created a timeline, which can be viewed here.
Visit for a complete view of all of PTI's grants and scholarship programs.