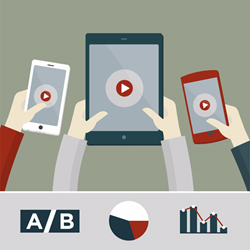 "The goal of video analytics is to find out what is working, and what aspects of a campaign can be improved," said David Bowman, Creative Director for the Commotion Agency.
Atlanta, GA (PRWEB) September 24, 2014
The Commotion Agency, an Atlanta based explainer video studio, is now offering an innovative video analytics service that will help clients measure the effectiveness of their online video campaigns and ultimately improve ROI.
Every day more businesses are using creative marketing videos to reach their customers online because people love watching dynamic content. But besides the number of views a video attracts, measuring the results of an online video campaign is notoriously difficult. This can be especially frustrating for company marketing departments who are left wondering if relatively expensive video campaigns are actually accomplishing their goals.
Using a number of digital tools, Commotion Agency is able to split-test and measure how viewers are interacting with different versions of an explainer video on a client's website. Are viewers skipping or rewatching certain sections, or are they dropping out before the video is over? Which version of the video is more effective at driving conversions? Are viewers staying on the page longer? Video analytics provide answers to these questions.
It all starts with defining what needs to be measured, then once enough data has been collected it is possible to make informed decisions on what can be improved to more effectively engage viewers and accomplish company goals. Video analytics are not magic, but they are a valuable tool for marketing professionals looking to improve their online campaigns.
About the Commotion Agency:
The Commotion Agency has been helping clients communicate through custom animated explainer videos for over two years, and has worked with local start ups as well as international brands like Dell and Nokia. The video analytics service was developed as a way to improve the effectiveness of video campaigns. For more information visit http://www.CommotionAgency.co/video-analytics