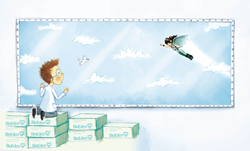 (PRWEB UK) 26 September 2014
By day Eden is a stem cell scientist, but can transform herself into the Super Tooth Fairy, or so says BioEden creators of this character.
The Super Tooth Fairy is just one of many delightful characters in an educational tool designed for primary school pupils and teachers.
In this children's story book The Super Tooth Fairy takes the baby teeth away to the laboratory of specialist stem cell bank, BioEden, where they harvest the stem cells for the child. Although the BioKidz concept features fictional characters, the story is based on reality and takes children on a tour of a stem cell laboratory and explains about the work of scientists and doctors.
Whatever the 'old' tooth fairy did in children's stories of yesteryear, the new Super Tooth Fairy has the child's health at the core of her super tooth fairy missions.
To find out more about BioKidz and the work carried out by specialist stem cell bank BioEden, visit http://www.bioeden.com