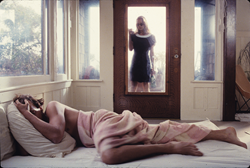 "Comes out of nowhere to captivate you with its passion..." - LA Times
Marina del Rey, CA (PRWEB) September 23, 2014
The end of summer just got hotter with the digitally remastered re-release cult classic "TWOGETHER" onto DVD and digital download. Before "50 Shades of Grey," Sony Pictures originally released "TWOGETHER," which took the world by storm one kiss at a time. Today, the film is now available on iTunes, Amazon, eBay, and Barnes & Noble. Featuring Jeremy Piven ("Entourage") as Arnie, "TWOGETHER" follows the story of a sultry couple who lose themselves in a weekend of wild, passionate, unbridled, kinky sex.
"In many ways, TWOGETHER is more timely today than when it was first released," comments Writer/Director Andrews Chiaramonte. "Casual sex leading nowhere is a sign of the time; another 'drug' of sorts to help distance oneself from the harsh reality of today's world."
Produced by Emmett Alston and Chiaramonte, the film stars Nick Cassavetes ("Hangover II," director of "Notebook"), Brenda Bakke ("Hot Shots! Part Deux") and Jim Beaver ("Supernatural").
John Madler (Cassavetes) an ambitious, volatile, struggling artist who believes in freedom of artistic expression, forms a powerful attraction to Allison McKenzie (Bakke) a rich girl from Bel Air who is looking for an escape from reality. When the two meet at an art exhibit, it's lust at first sight, and nothing can keep them from running off to Las Vegas together for what becomes a wild time of sexual abandon and intoxication - a lost weekend where they give in to their bodies and their passions without restraint. But when hearts get involved, their relationship built on lust begins to mold into something unexpected. "TWOGETHER" is about a a snapshot of the love between two people; an example of how a man and a woman can fall for each other even when they shouldn't, can make it work even when it's almost not worth it.
Download or purchase your copy today. The film is distributed by Video Services Corp and is unrated.
EXCLUSIVE DVD EXTRAS

Introduction from the Director
Director Commentary
Trailer
For more information, visit twogethermovie.com.
###