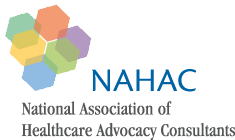 Making its debut at NAHAC14: Standards and Best Practices for the Field of Healthcare Advocacy
Chicago, IL (PRWEB) September 30, 2014
Healthcare advocates, patient navigators, healthcare providers and caregivers will meet at the National Association of Health Advocacy Consultants (#NAHAC) fifth annual conference, "Mastering the Power and Direction of Healthcare Advocacy" (#NAHAC14) to be held October 30th - Nov. 1st, 2014 in Chicago, Illinois.
Making its debut at NAHAC14: Standards and Best Practices for the Field of Healthcare Advocacy. As healthcare advocacy grows into a profession, advocates have needed a set of standards and best practices. NAHAC stepped forward to develop these standards, creating a foundation for the profession of healthcare advocacy. #NAHAC14 will be the first public presentation of these recently completed guidelines.
The session will be presented by Beth Droppert, RN, BSN, from Allied Health Advocates in Seattle, along with members of the NAHAC Best Practices Committee. The new guidelines will offer healthcare advocates guidance on the ethics of their practice, and also offer a framework to healthcare providers who work with advocates.
To learn more or register for conference, please visit the NAHAC website.