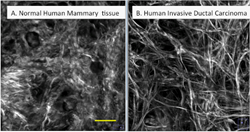 Madison, WI (PRWEB) September 25, 2014
The National Cancer Institutes has awarded a $1.75M Small Business Innovative Research (SBIR) contract to BellBrook Labs for a collaborative effort with researchers at the University of Wisconsin-Madison to develop more realistic models for breast and ovarian cancer. The research will use imaging and microfabrication technology developed by the UW team to accurately replicate tumor microenvironments associated with poor prognosis, and fabricate these environments in BellBrook's iuvo™ Microchannel Plates. This technology will allow drug discovery scientists to screen for more effective anti-cancer drugs with new mechanisms of action and aid oncologists in identifying the most effective chemotherapeutic regimens for individual cancer patients.
Led by BellBrook's founder and CEO, Bob Lowery, the team includes Steve Hayes and Lisa Vu from BellBrook and Patricia Keely, Paul Campagnola and Kevin Eliceiri from UW-Madison. The research will be directed at understanding how the scaffolding that cells attach to, called the extracellular matrix (ECM), affects cancer cell growth, motility and response to chemotherapeutic drugs. Though largely overlooked until relatively recently, the role of the ECM in tumorigenesis has become a key priority in cancer research. One of the main stumbling blocks to including ECM in cellular models in drug discovery has been that it greatly complicates microscopic imaging of cells, a limitation largely imposed by the multiwell plates that are widely used for high throughput screening. BellBrook's iuvo™ Microchannel plates make it possible to perform image based, multiparametric analysis of cells growing in three dimensional extracellular matrix on existing high throughput screening platforms. The Fast Track SBIR contract includes a nine month Phase I period with $225,000 in funding and a two year, $1.5M Phase II option based on Phase I milestones.
Members of the UW team recently showed that specific patterns of collagen, the main protein in the ECM, can be used as a prognostic marker in breast cancer. They can detect these changes, called Tumor Associated Collagen Signatures (TACS), in intact biopsy tissue and histopathology samples. The UW team has developed fabrication methods that can directly use TACS images as blueprints to produce ECM with the desired collagen topology. The goal of the SBIR contract is to replicate the TACS for breast and ovarian cancer in microchannels and show that they have the same effects on implanted tumor cells as in patients. The team will ask how well the collagen signature tumor models predict drug responses by exposing them to commonly used chemotherapeutic regimens and comparing the results with analyses of TACS in tissue samples from patients with documented treatment histories. Finally, they will validate the collagen signature tumor models for high throughput screening to identify new molecular targets and small molecule drugs. If successful, the combination of the UW team's ECM fabrication technology with the iuvo™ Microchannel plates will be transformative, as it will allow scientists to probe tumor cell behavior in ECM that faithfully replicates the in vivo tumor microenvironment.
About BellBrook Labs. BellBrook Labs, LLC develops detection reagents and microfluidic devices that accelerate the discovery of more effective therapies for cancer and other debilitating diseases. Transcreener® is a universal, high throughput biochemical assay platform based on detection of nucleotides, including ADP, GDP, AMP, GMP and UDP which are formed by thousands of cellular enzymes, many of which catalyze the covalent regulatory reactions that are central to cell signaling and represent new opportunities for therapeutic intervention. The iuvo™ Microconduit Array technology and assay screening service is a line of unique microscale devices for miniaturization and automation of advanced cell models that are more representative of human physiology.