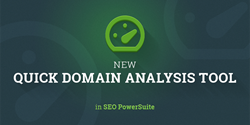 There is a set of essential website metrics one would want to be able to access and preview at all times - and that's exactly what "Domain Overview" now allows you to do.
(PRWEB) September 23, 2014
While deciding what to include into the new Domain Overview tab, the developer considered which information about a website users would like to always have at hand:
"SEO PowerSuite helps one improve websites for better search engine rankings and performance", says Erin Madison, User Experience Manager at Link-Assistant.Com. "And, there is a set of essential website metrics one would want to be able to access and preview at all times - and that's exactly what "Domain Overview" now allows you to do".
Inside "Domain Overview"
The new tab contains the most important metrics regarding the website analyzed in a specific SEO PowerSuite project. For instance, if one is analyzing "example.com" in a project, they'll get statistics for "example.com" in the "Domain Overview" section.
The metric one sees right at the top of the table is Domain Strength. It's a complex metric estimated based on a number of key domain factors such as its age, PageRank, backlinks, social signals, and others. It's presented on the scale from 0 to 10 and can be used to tell how authoritative a domain could be considered by search engines.
Besides Domain Strength, other metrics in "Domain Overview" are:
1. External Domain Characteristics: Google PageRank, Alexa and Compete Rank, Google domain popularity.
2. Domain info: domain's age, IP address and average loading time.
3. Indexing in search engines: the number of domain's pages indexed in major search engines.
4. Web catalog listings: domain listings in DMOZ, Yahoo! Dir and Yandex Catalog.
5. Backlinks: key statistics regarding one's backlink profile such as the number of links, the number of backlink domains and the dofollow/nofollow ratio in the profile.
A preview of this metric is available at http://www.link-assistant.com/news/quick-domain-analysis.html
6. Social media popularity and traffic: the number of signals and visits to a site from social media).
7. Traffic to the site: key traffic statistics for one's site (to see these data in the software, one is required to enter their Google Analytics account details).
On SEO PowerSuite tools
SEO PowerSuite is a pack of 4 search engine optimization tools that each serve a specific purpose.
Rank Tracker (rank-tracker.org) allows one to monitor search rankings and discover new keywords for an SEO campaign. WebSite Auditor is on-page SEO software one can use to optimize their site's structure and content for search engines. SEO SpyGlass is SEO PowerSuite's backlink checker and backlink comparison tool, while LinkAssistant is a link outreach and link campaign management app.
*About Link-Assistant.Com*
Link-Assistant.Com is a software developer with nearly a decade of experience providing top-performing SEO tools for Internet marketers. Launched in 2005, the Link-Assistant.Com business model was built around striving for innovation and a passion to create paramount search engine optimization software. Its marketing tools are used by over 500,000 users worldwide who rely on Link-Assistant.Com marketing toolkit - SEO PowerSuite - for their online success.