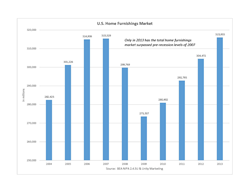 Our new blog, Cocooning in New Luxury Style, will release the latest data from a new study of the home furnishings market. Readers are invited to submit questions about the data so that we can refine our analysis to provide the most valuable insights.
Stevens, PA (PRWEB) September 25, 2014
Unity Marketing is known for its cutting-edge research into affluent consumer behavior in home, personal, and experiential luxury categories. This research generates valuable data and insights every three months. For the first time Unity Marketing is providing the latest data for free, starting with the data from the latest special investigation into affluent consumers and their home purchases.
Pam Danziger, president of Unity Marketing and author of the blog, said, "We know that it isn't data people need to run their businesses effectively. It's the analysis that tells marketers how to understand affluent consumer behavior, how to plan marketing strategies, and how to target new and existing customers. We believe this analysis comes best from a conversation, and we want to connect with business executives that need this kind of information."
Free Subscription to the New Blog: Cocooning in New Luxury Style
Starting in early October, Unity Marketing will release data from the latest proprietary research survey on affluents' home purchases in a series of blog posts. With each blog, readers are invited to submit questions about the data to further refine the analysis and recommendations in order to provide the kind of advice needed to make business decisions.
In exchange, readers will be getting a first look at the data as it becomes available, without having to wait for the final published trend report. Blog followers will determine the direction of the conversation, so that Unity Marketing can provide answers and analysis in the final report based on readers' needs.
All it takes is the activation of the free subscription to the blog to get the dispatches sent to one's email in-box. Click here to sign up to receive Cocooning in New Luxury Style blog. There's no subscription fee, and subscribers will get access to the latest data and analysis from Unity Marketing as soon as it's available.
"Of course, the full report will be available for purchase once the collaborative review of data is complete," Danziger says. "But only subscribers will have access to Unity Marketing's expertise during the analysis phase, asking questions and helping focus the recommendations."
"Won't you collaborate with us on this important new project?" Danziger asks.
If an historical perspective is needed, there is the Home Luxury Report and more
And if one's business needs a historical perspective, tracing the home luxury market from 2008-2013, the new H ome Luxury Report is available today to get a jump-start on overtaking the competition by getting up close and personal with the affluent shopper who is looking for updates to their home.
Or if one's company only competes in one sector of the home market, such as linens and soft goods, tabletop, art & wall decor, then there is a special Snapshot report available with a six-year perspective on trends.
About Pam Danziger & Unity Marketing
Pamela N. Danziger is an internationally recognized expert specializing in consumer insights for marketers targeting the affluent consumer. She is president of Unity Marketing, a marketing consulting firm she founded in 1992. Pam received the Global Luxury Award for top luxury industry achievers presented at the Global Luxury Forum in 2007 by Harper's Bazaar. Luxury Daily named Pam to its list of "Women to Watch in 2013." She is a member of Jim Blasingame: The Small Business Advocate's Brain Trust and a contributing columnist to The Robin Report.
Pam's latest book is Putting the Luxe Back in Luxury: How new consumer values are redefining the way we market luxury (Paramount Market Publishing, 2011). Her other books include Shopping: Why We Love It and How Retailers Can Create the Ultimate Customer Experience, published by Kaplan Publishing in October 2006; Let Them Eat Cake: Marketing Luxury to the Masses-as well as the Classes, (Dearborn Trade Publishing, $27, hardcover) and Why People Buy Things They Don't Need: Understanding and Predicting Consumer Behavior (Chicago: Dearborn Trade Publishing, 2004).