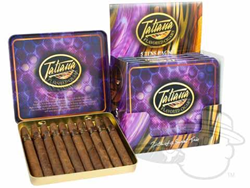 Drums, PA (PRWEB) September 23, 2014
Best Cigar Prices just received a shipment of Tatiana Groovy Blue. These popular cigars are a hit with many individuals that just want a quick tasty cigar.
These types of cigars typically sell out in short order due to high demand.
"I love these cigars. The flavor is very mild and lightly sweet. The Petite size is perfect for a 20 minute smoke on the patio." noted one customer on the Best Cigar Prices review page.
The popularity of these cigars is impressive. Tatiana Groovy Blue is a complex, candy-sweet smoke that would be perfect for any time of the day. Each is flavored with Black Amboise raspberries, vanilla, acacia honey, and cognac extracts.
About Best Cigar Prices:
Best Cigar Prices is the premier online retailer of premium cigars and cigar accessories, offering a wide selection of handmade cigars, machine-made cigars, cigar humidors, lighters, cutters, and more at discount prices. Best Cigar Prices also offers weekly email deals and free bi-monthly catalogs showcasing their latest products, cigar samplers, and specials, as well as customer support 7 days a week.