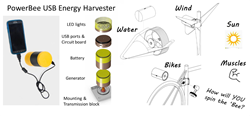 This is a company with an admirable mission statement and a purpose that we can really get behind.
Austin, Texas (PRWEB) September 24, 2014
HydroBee, a Seattle-based startup company, has chosen OSSCube, a global solutions provider, to develop and integrate a comprehensive suite of business management tools. For OSSCube, this is the latest addition to a successful portfolio of startup business partners.
HydroBee is a company focused on improving the lives of those with little or no access to power by providing them with an affordable and renewable option for charging their USB devices. Additionally, HydroBee seeks to eliminate the challenges faced by those spending time outdoors, away from traditional power sources. In 2014 HydroBee has been named winner of the Business for Good contest, and winner of the Innovative World Technologies contest at SXSW V2Ventures conference in Las Vegas, NV.
OSSCube is a global solutions provider that specializes in helping solve some of today's most common and complex business problems, by developing integrated critical solutions using open source technologies. OSSCube frequently collaborates with startups; providing them with time-saving technology resources, allowing them to invest more on marketing and sales and less on building development overhead. With an award-winning team of developers, OSSCube is focused on changing the way its clients do business by delivering the highest-quality solutions available.
"I am extremely excited about the opportunity to work with HydroBee." Said John Bernard, EVP of North America, OSSCube. "This is a company with an admirable mission statement and a purpose that we can really get behind. By partnering with HydroBee, we have the opportunity to create new ways of connecting with those off the grid or those who need disaster relief support. I can't wait to see what part we will play in helping people across the globe gain access to renewable energy."
Through this partnership, OSSCube will help support the growth of HydroBee, and provide customer support systems designed to improve the overall experience of HydroBee buyers. Additionally, HydroBee will be launching an Indiegogo campaign beginning in the fall of 2014.
"OSSCube brings to our startup the software power we need," Said HydroBee President Burt Hamner. "We have already partnered with Autodesk to use their Fusion 360 software for the design of our physical products, and we're excited about working with OSSCube to begin work on making our products smarter and connecting them to the internet of things.
To learn more about OSSCube visit OSSCube.com, linkedin.com/company/OSSCube, follow @OSSCube on Twitter, or contact Lauren Katz, Communications Manager at lauren(dot)katz(at)osscube(dot)com
About HydroBee
HydroBee's mission is to provide usb power to everyone and to improve the lives of millions of people living in energy poverty. A team of innovators, product designers, and humanitarians, HydroBee is creating a renewable energy platform meant to change the way the world gains access to USB power. Rooted in principles outlined by the 2013 book ˆThe Business Solution to Poverty" by Polack and Warwick, and the PATH Communication Toolkit, HydroBee seeks to make a difference in the loves of some 2 billion people living at the "bottom of the pyramid" (Polack and Warwick, 2013) by providing them with an accessible and renewable energy source. For more information about HydroBee and their mission, please visit http://www.HydroBee.com or follow @HydroBee on Twitter.
About OSSCube
OSSCube is a Global solutions provider based in Austin, TX with offices in the UK and India. OSSCube delivers integrated mission critical solutions using open source technologies and offers a broad range of services, including: consulting, elastic virtual development resources, mobile, web and custom application development, product support and open source training. OSSCube is proud to be an honoree on the 2014 Great Place to Work® list, one of the Inc. 5000 fastest growing companies in the U.S. (2014), an Amazon Web Services Advanced Consulting Partner (2014), and appraised at CMMI Level 3 (2014).