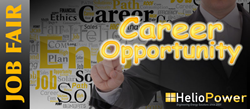 "HelioPower has benefited from cultural enrichment thanks to the talented individuals we have met who are looking to build or expand their career path in Solar with HelioPower." - Dawn Roiz, Vice President of Finance for HelioPower
Murrieta, CA (PRWEB) September 24, 2014
HelioPower, Inc., an integrated energy solutions provider based in Murrieta, CA has announced it will be hosting a local hiring event for its Inland Empire location. The on-site event will occur at 25747 Jefferson Avenue, Murrieta, CA 92562 on Thursday October 9th between the hours of 7:00 AM and 4:00 PM Pacific Standard Time.
Qualified applicants can visit the Careers page at http://www.HelioPower.com to learn more about the variety of positions currently available. This event will provide direct access to hiring managers, allowing job seekers to interview directly and be considered for immediate hire. "We've produced successful hiring events at all of our locations statewide," says Dawn Roiz, Vice President of Finance. "HelioPower has benefited from cultural enrichment thanks to the talented individuals we have met who are looking to build or expand their career path in Solar with HelioPower."
HelioPower will be conducting a Job Fair with on-site interviews for those looking for a career in Solar in one of the following positions: Energy Consultant, Project Manager, and Photovoltaic System Designer. For more information go to HelioPower Solar Energy Careers.
About HelioPower, Inc.
HelioPower is an integrated energy solutions company with more than 4,500 solar and clean energy systems engineered and installed since 2001. Founded in 2001, HelioPower's mission is to reduce energy costs and develop energy assets by leveraging renewable energy production, demand side management, and return on investment strategies for clients in the U.S. and abroad. For more information, visit http://www.HelioPower.com.
###