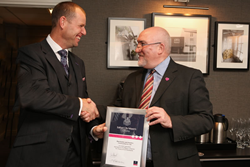 It is fantastic that Manchester and Cheshire Construction are the first to achieve this standard in this city – it's a day in history.
Manchester (PRWEB UK) 25 September 2014
Manchester & Cheshire Construction Co. Ltd. held an inauguration ceremony at their Salford headquarters following a £150,000 refurbishment and Ian Stewart, City Mayor of Salford, duly cut the ceremonial ribbon before presenting the company with the Charter Mark;
"It is fantastic that Manchester and Cheshire Construction are the first to achieve this standard in this city – it's a day in history. They demonstrate that you can have employment standards and be profitable – and their retention rate for staff is very impressive. I hope other businesses follow this example."
Following the ceremony, David Lowe, Managing Director, explained how the Charter Mark endorses the company's strong belief in investment in their people and will help towards further growth;
"We are on course to achieve record sales figures for the 5th year in succession whilst remaining profitable, and are ahead of schedule in achieving our original target of £10m by 2016. The Charter Mark will help us to attract yet more high calibre employees who will take the company to the next level, whilst the new office layout provides the increase in capacity we need, as well as making for a more pleasant and productive workplace for our current staff."
The Mayor congratulated Mr Lowe on another recent success for the company, namely their appointment to a £25m four-year framework contract with Salford City Council. Previous framework awards have directly led to re-investment in the company, now in its 43rd year, as Mr. Lowe explains;
"Frameworks give us confidence to invest in the future growth of the company and it's great to see Salford City Council supporting local SMEs such as ourselves. As well as the investment in our head office we have also recently invested in our IT infrastructure, our vehicle fleet and the continued development of our employees. The investment in our workforce helps us to meet the strict criteria of the Salford City Mayor's Charter, which raises employment standards in the city, so it's a win-win situation."
Mr Lowe also announced the appointment of Michael Purcell as Development Director, who returns to the company following several years in Hong Kong with major contractor Leighton Asia, part of the internationally renowned Leighton Group.
"Manchester and Cheshire Construction has a strong history of delivering high quality developments and this appointment will help the company increase its presence in this market to achieve our 2018 sales goal."
Contact details:
Chris Purcell
Manchester and Cheshire Construction Co. Ltd.
6 Oldfield Road
Salford
M5 4WB
T: 0161 736 0929
F: 0161 745 7043
E: chris.purcell(at)mcconstruction.co(dot)uk
http://www.mcconstruction.co.uk
Background info:
Founded in 1971, Manchester and Cheshire Construction Co. Ltd. undertakes building projects throughout the North West of England in the commercial, education, retail, industrial, residential and conservation sectors.
Framework partners include Royal Mail, The University of Manchester, the Ministry of Justice, Cheshire East Council, Salford City Council and the North West Construction Hub.
The company has succeeded in doubling revenues since 2009 despite a challenging economic climate throughout this time.