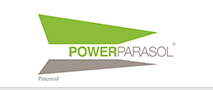 This is a big day and an exciting time for our entire team.
Chandler, AZ (PRWEB) September 23, 2014
Four years after filing its initial application, today, PowerParasol is a patented power-producing solar shade structure. Strategic Solar Energy, a Chandler-based start-up company, was informed of the award from the U.S. Patent and Trademark Office, which officially issued and published the patent on September 2.
"Since the first PowerParasol was built in Lot 59 at Arizona State University we have been saying that this is a game-changer," said Strategic Solar Energy President, Bob Boscamp. "There is no other structure built this way or that delivers what a PowerParasol can deliver. The grant of the patent is a strong confirmation of that point."
"This is a big day and an exciting time for our entire team," said Boscamp.
As defined by the USPTO, a patent is an intellectual property right granted by the U.S. government to an inventor "to exclude others from making, using, offering for sale, or selling the invention throughout the United States or importing the invention into the United States" for a limited time in exchange for public disclosure of the invention when the patent is granted.
Some of PowerParasol's unique features include its contiguous solar panel platform, its elevation, its placement and orientation of solar panels to create dappled lighting which allows trees, plants and flowers to grow beneath it, and bracing elements that also serve as signage opportunities.
Boscamp credited PowerParasol architect Jack DeBartolo for his role in converting the vision into a reality.
"What we've done with PowerParasol is unprecedented," said DeBartolo. "In addition to producing energy, what PowerParasol really does is transform the outdoor environment by balancing the elements of light and shade. It's an integrated design that delivers dappled light, making outdoor rooms of function and value."
Currently, Strategic Solar Energy has built and sold four PowerParasols – three are at Arizona State University near Gammage Auditorium, on the north side of the Memorial Union and Cady Fountain, and in Lot 59 adjacent to Sun Devil Stadium. The fourth PowerParasol is at Fry's Food Store at 2727 West Bell Road in Phoenix. Two of the projects cover parking lots, the other two are located in public open space.
According to Wellington "Duke" Reiter, Chair of the Urban Land Institute Arizona and a senior advisor to ASU President Michael Crow, patents for architectural design are seldom granted, but deserving in the case of the PowerParasol.
"Capturing energy from the sun requires a rather straightforward hardware installation and most solar arrays are simply that," said Reiter. "The beauty of the PowerParasol concept is how it provides answers to multiple questions simultaneously: energy production, shade, lighting, safety, communications, and most significantly, the creation of very attractive public spaces. On the ASU campus, the civic dividend associated with the thoughtfully designed PowerParasol structures has been profound."
Boscamp sees continued growth, fueled by the award of this and future patents.
"There is enormous interest in the PowerParasol product," said Boscamp. "We have put a lot of work into this over the past four years and we're starting to see the momentum that comes from having successful projects that produce results. The patent award is another feather in our cap and it tells the marketplace there's only one PowerParasol and only one company that can deliver it."
"We're going to celebrate this accomplishment for a day and then we've got a lot of work to do," he added. "This is just the beginning."
About Strategic Solar Energy
Strategic Solar Energy is an Arizona based company focused on creating innovative renewable energy technology solutions. Its business model is to build beautiful solar structures rather than hiding solar generation out of sight; to enhance land rather than consume it; and to work within the local electrical grid eliminating the need for new transmissions lines. SSE's first product is the PowerParasol, a solar electric and shade structure. PowerParasol creates a shaded, park-like environment that improves rather than disrupts how the land is currently used. Find out more about Strategic Solar and the PowerParasol at whttp://www.powerparasol.com