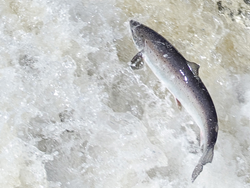 Globally the land and sea temperatures are increasing.
St. Andrews, NB (PRWEB) September 23, 2014
The Atlantic Salmon Federation (ASF) is hoping that Climate Summit 2014, a one-day conference in New York, will result in changes that will help save wild Atlantic salmon, a bellwether species for the health of our rivers and oceans. Progress depends on real action by the world's top leaders, including U.S. President Barack Obama, who will address the conference.
"Globally the land and sea temperatures are increasing," says Jonathan Carr, ASF's Executive Director of Research and Environment. "These changes bring about more frequent storms and hurricanes which lead to flooding. This flooding impacts the salmon spawning nests and also impacts juvenile salmon. It can also lead to surface runoff, which can cause chemical leaching into rivers from a variety of sources."
Carr says dealing with the impacts from climate change, sooner rather than later, is crucial to saving wild Atlantic salmon as their numbers continue to decline year after year.
"Climate change is undoubtedly partially responsible for the low returns of Atlantic salmon that we are seeing throughout eastern Canada this year," continued Carr.
Returns to the northeastern rivers of the United States fell to fewer than 400 in 2014 from 611 last year, among the lowest runs in history. All of Maine's wild Atlantic salmon are listed as endangered.
In Canada, where the southernmost salmon populations are either listed as endangered or threatened, even the more northern world famous Miramichi River salmon in New Brunswick are in deep trouble. In the 1990s, salmon returns to the Miramichi averaged 82,000 per year. Last year, that number had fallen to 23,000 and despite near perfect angling conditions, this year's return is estimated to much lower.
Climate Summit 2014 is part of Climate Week NYC being held from September 22-28. More than 120 events, activities and high-profile meetings will be taking place across New York City this week. Today's one-day summit is a gathering of more than 100 world leaders and is designed to lay the groundwork for a new global treaty to tackle climate change in December 2015.
-30-
The Atlantic Salmon Federation is dedicated to the conservation, protection and restoration of wild Atlantic salmon and the ecosystems on which their well-being and survival depend. ASF has a network of seven regional councils (New Brunswick, Nova Scotia, Newfoundland and Labrador, Prince Edward Island, Quebec, Maine and Western New England). The regional councils cover the freshwater range of the Atlantic salmon in Canada and the United States.
ASF Contact: Holly Johnson, Manager of Public Information: (506)529-1033(o)
(506)469-1033(c), HJohnson(at)asf.ca
To view this story online visit: http://asf.ca/wild-salmon-survival-linked-to-climate-summit.html
Join us on facebook: https://www.facebook.com/AtlanticSalmonFederation Twitter: https://twitter.com/SalmonNews
For high-resolution photography please visit: the ASF Image Gallery: http://www.asf.ca/images.html