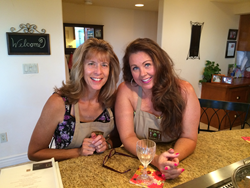 The hospitality, food and location were all to perfection! I can't wait to try these recipes back home in Tennessee!
San Diego, CA (PRWEB) October 14, 2014
Putting aside the three-tiered serving plate, Deana Hurd of Lulu's Tea Room participated in Lajollacooks4u's hands-on, gourmet cooking and dining experience.
Hurd had been a long time follower of Lajollacooks4u, and had watched the business grow over the past two years from her tearoom's location in Powell, Tennessee. Chef Jodi was thrilled to have Hurd, and her guest Deb Ranney from Glens Falls, New York, finally join her in the kitchen for their first gourmet cooking class with Lajollacooks4u.
Hurd is no stranger to the food scene, offering a number of lunch entrees, side salads, and delectable desserts at her tearoom in Tennessee. In one cooking class at Lajollacooks4u, Chef Jodi was able to expand Hurd's recipe options by introducing more delicious gourmet dishes, including two appetizers of a Foccaccia with Eggplant Caponata and Burrata Cheese and an Avocado and Mango Salad with Spiced Nuts in a Parmesan Cheese Basket. The main course featured a Beef Tenderloin with a Mustard Herb Crust complemented with Tomato Onion Chutney and sides of Wild Mushroom Farro and Sautéed Swiss Chard with Artichokes and Pine Nuts. For dessert—a potential tearoom favorite—chocolate melting cakes. With wines paired to each course, Hurd and Ranney had a delightful time cooking with Chef Jodi.
Among swapping culinary techniques and stories, Chef Jodi learned that Hurd has a monthly TV spot on a Knoxville channel that focuses on home and culinary topics. After enjoying her class with Chef Jodi, Hurd decided to present Chef Jodi's Chocolate Melting Cakes recipe on her TV spot.
Chef Jodi expressed her respect and admiration for Hurd's work and interest in the culinary field. For Chef Jodi, sharing her passion for cooking is the fuel that guides Lajollacooks4u. Meeting amazing guests that also share the same passion for food and cooking is another reason why Chef Jodi loves what she does.
After her cooking class with Chef Jodi, Deana Hurd shared how much she enjoyed her time at Lajollacooks4u by enthusiastically expressing how she loved the "California Cuisine experience". Hurd also shared with Chef Jodi, "the hospitality, food and location were all to perfection! I can't wait to try these recipes back home in Tennessee!"
Chef Jodi was so happy to meet Hurd and learn about her experience running a southern-style tearoom. After having such a wonderful time cooking together, Chef Jodi can't wait for Hurd to return to La Jolla and attend a second cooking class. Chef Jodi guarantees that there's always something new to try at Lajollacooks4u.
About Lulu's Tea Room
Having adopted the nickname "Lulu" given to her by her mother, Deana Hurd designed Lulu's Tea Room in Powell, Tennessee with her mother's original, tearoom, The Mezzanine Tea Room, in mind. Lulu's Tea Room goes above and beyond the normal lunchtime spot. It has built its business to include receptions, bridal showers, little girl tea parties, birthday celebrations, and corporate catering. For more information and to make reservations, call 865-947-5858 or contact Deana Hurd at lulus.tearoom(at)gmail(dot)com
About Lajollacooks4u
Lajollacooks4u, founded in 2008, provides a unique and intimate activity for couples, corporate team building, and any foodie looking for a unique cooking and culinary experience in an ideal setting overlooking the Pacific Ocean. Based in La Jolla, a suburb of San Diego, CA, Lajollacooks4u has enjoyed record growth since its inception and is ranked as a top attraction in La Jolla on the world's largest travel review site, Trip Advisor. As always, Lajollacooks4u customizes its private cooking classes to meet the needs and interests of each group. For more information or to make reservations, contact Jodi Abel at jodi@lajollacooks4u.com or by phone at 1-858-752-4980. Visit Lajollacooks4u's website at http://www.lajollacooks4u.com