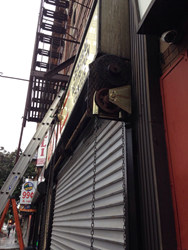 New York City, New York (PRWEB) September 25, 2014
Rolling gates provide security and safety for shops and other businesses throughout New York City. However, no matter how high quality the door and opening/closing system, or how professional the installation, there will come a time when repair work is necessary. Rolling Gate Repair NYC offers the following tips to ensure business owners make the right choice:
Ensure rolling gate repair technicians are fully certified and trained.
Ensure companies offering rolling gate repair in NYC are fully licensed and insured.
Check any rolling gate repair provider's experience with maintenance, repair and installation of rolling gates.
Check a provider's availability. An emergency can strike at any time, and business owners should only work with companies available 24/7.
The company should provide preventative maintenance to eliminate or mitigate the chance of future costly repairs or rolling gate replacement.
The choice of an inexperienced provider for rolling gate repair in NYC can be devastating. If repairs aren't correctly performed, the gate's operation might be jeopardized, leading to a break-in that should have been completely avoidable.
"At Rolling Gate Repair NYC, we've built a reputation for excellent service, professionalism and all-the-time availability," said Rolling Gates NYC Spokesman. "We're proud of that, and the fact that we're the number one choice for business owners and even residential rolling gates throughout New York City. Our repair work, maintenance and new gate installation solutions fit any need."
To learn more about Rolling Gate Repair NYC or to request repair or maintenance work for a rolling gate, visit RollingGateRepairNYC.com.
About Rolling Gate Repair NYC: For New York City residents, only the best protection suffices. That is why Rolling Gate Repair NYC provides only the best products and services. From new installation to repairs, licensed and insured Rolling Gate Repair NYC provides safety. The company's mission is to deliver quality, professional installations, and provide the continuation of excellent gate performance for both residential and commercial installations. With years of experience and knowledge, Rolling Gate Repair NYC has been recognized and praised by many New York businesses and management companies including Prada, Gap, Lacoste, Payless and Zara.
Name: Rolling Gate Repair NYC
Phone: 212-202-3252
Web Address: http://www.RollingGateRepairNYC.com
Email: rollinggatenyc(at)gmail(dot)com