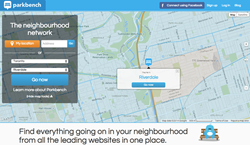 We've expanded into more neighbourhoods, we have more active businesses who are promoting Parkbench, and we've partnered with more professionals who are endorsing our brand.
Toronto, Ontario (PRWEB) September 24, 2014
Over the last quarter, Parkbench.com has continued to gain attention in the Greater Toronto Area (GTA). Canada's fastest growing website for neighbourhoods has continually boosted viewership online and now features more event listings and local deals than any other website for Toronto. Most impressive is the fact that the company has reached profitability, which is a huge feat for any tech startup and something that Parkbench managed to accomplish in just six months.
Throughout the summer, traffic on Parkbench increased by nearly 900%, as the website grows into a household name. In August, there were over 734,000 monthly page views, with 250,000 of those being unique users. "We've expanded into more neighbourhoods, we have more active businesses who are promoting Parkbench, and we've partnered with more professionals who are endorsing our brand," says Parkbench CEO Grant Findlay-Shirras.
Accelerating into 2015, Parkbench is establishing itself as Toronto's most comprehensive website for neighbourhood information, and now features over 20,000 local event and activity listings for the GTA. Parkbench uses a proprietary technology that curates events from top websites like Facebook, Eventbrite, MeetUp, and dozens of local and regional sites. These events are then categorized by type, and organized by neighbourhood—all of which is incredibly useful to the GTA's active and social population.
Parkbench also hosts over 1,500 local deals, coupons, and daily specials, and aggregates over 1,000 deals listed on other local and regional websites, which is more than any other website for the GTA. Parkbench has started to apply its content curation and organization technology to local news and right now there are over 4,000 articles posted in respective neighbourhoods.
Supplementing this abundance of business, cultural, and social data, is an ever-growing amount of real estate–oriented content for homebuyers and sellers. Parkbench features property listings, historical data, and information about parks, schools, and community trends. It has also partnered with true neighbourhood-focused real estate experts for each neighbourhood to assist homebuyers and sellers.
"A park bench is known to be an historically strong symbol for a community," says Dr. Rodney Hoinkes, Chief Technology Officer and co-founder of Parkbench. "Often, people donate and build park benches to make neighbourhoods better. Being socially responsible and giving back to neighbourhoods is very important to us." This past August, Parkbench threw its first annual fundraiser in support of the Mitahato Education Development Fund in Kenya. The Parkbench team played host to over 150 guests who came to show their support for the community-based initiative that teaches farming techniques to rural Kenyans. The event marked the beginning of Parkbench's commitment to donating a portion of its revenue to developing communities outside of Canada.
Parkbench is currently gearing up for a big Q4 with the release of a new mobile-responsive design in October. The site redesign will feature a user-friendly interface that will allow users easier access to all neighbourhood information in less than three clicks. New content and tools will continue to be added to the website weekly, like a new feature that aggregates neighbourhood news and an expanded real estate market information section. All this precipitates Parkbench's expansion to Vancouver, slated for later this fall.
ABOUT PARKBENCH
Parkbench.com is Canada's top neighbourhood website. We curate everything going on in each neighbourhood from all the leading websites and present it to our users on one easy-to-use platform. Parkbench founders Grant Findlay-Shirras, Amanda Newman, and Rodney Hoinkes are available for interview.
Contact:
Jacob Rutka
Content and Communications Manager
Parkbench.com
jacobr(at)parkbench(dot)com