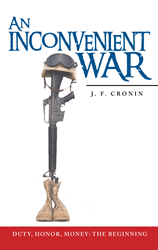 Even if we don't make the same mistakes, our continued combat is going to lead to a pyrrhic victory.
KONA, Hawaii (PRWEB) September 24, 2014
The recent anniversary of the Sept. 11 terrorist attacks alongside the resurgence of Islamic extremism in Iraq makes reflections on U.S. military operations and foreign policy unavoidable. The ebbing and flowing of America's interactions with brutal theocracies causes many to look back to the jarring introduction into the war on terror and the unfolding aftershocks to see if the U.S. could have done things differently.
Looking back to that time, retired USMC Major General J.F. Cronin has written a book titled "An Inconvenient War." In it, he informs readers by way of a professional breakdown of America's introduction into the global threat of extremist jihad. More troubling than jihadists, Cronin also points to members of the U.S. government, which he says threaten American prosperity even more direly than various terror organizations.
Cronin's novel is the second in a trilogy titled "Duty, Honor, Money." In it, Cronin obviously draws from his own experiences. He details the struggles of good soldiers having to fight for the careers of higher leadership instead of in the interest of military effectiveness. Readers will also find other current issues being discussed by the senior military officer, such as the role of women in combat and the fratricidal problems of sexual assault, as well as what he considers to be the looming danger of the war on terror.
"We will continue going to war as we have in Afghanistan and Iraq," said Cronin. "Even if we don't make the same mistakes, our continued combat is going to lead to a pyrrhic victory if we succeed in those endeavors."
"An Inconvenient War" is a fast-paced read that gives readers insight into the mind of a two-star-general and an expert in international relations.
For more information, visit http://www.jfcronin.com
"An Inconvenient War"
By J.F. Cronin
ISBN: 978-1-4917-3639-5
Soft Cover $19.95
Available in softcover, hardcover, e-book
Available on Amazon, Barnes & Noble and iUniverse
About the author
J.F. Cronin holds a master's degree in international relations from Salve Regina University. He served as base commander of Quantico, was chair of the Marine Reserve Policy Board and as a commanding general of the 4th Marine Aircraft Wing.
# # #
For review copies or interview requests, contact:
Matt VanScoik
317.602.7137
mvanscoik(at)bohlsengroup(dot)com