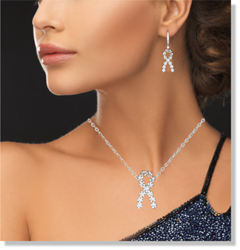 San Jose, California (PRWEB) September 25, 2014
Plumeria ribbon jewelry is designed to look like the beautiful Hawaiian plumeria flower. Hawaiian legend says it is the Flower of New Beginnings and is considered to be one of the most beautiful and fragrant flowers - yet they also contain healing properties as anti-inflammatories and also as a healing tea. This is the perfect design in nature to showcase your support.
The plumeria ribbon can be worn as a necklace, earrings, brooch or a bracelet charm. The fine detail and sparkling color of the plumeria blossom brings the jewelry to life and can be worn as an everyday beautiful piece of art. Each type of cancer can be supported in vivid colors that can either be created by painting or embedding semi-precious stones.
The inventor is an avid Avon Walk for Breast Cancer participant. After having participated in numerous Avon Walks she was inspired to design a different cancer support ribbon for her t-shirts. Living in Hawaii, she decided the new design must be a representation of the beautiful Hawaiian plumeria flower. The plumeria ribbon t-shirt design has now evolved into an artisan quality patented jewelry design.
The Plumeria Sparkle Ribbon Jewelry is available for manufacturing rights under license agreement. A professional prototype is available for evaluation. For more information please contact us at info(at)patents2market(dot)com or 408-559-5000.
Patents2Market, LLC is a leading product engineering, development and marketing company based in Silicon Valley.