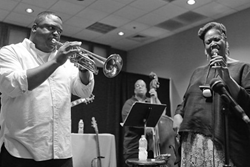 ST. LOUIS, Missouri (PRWEB) September 25, 2014
Professional trumpet player Robert Steward will be one of the featured performers at the debut concert in the Harold and Dorothy Steward Center for Jazz, an educational and performing arts center opening October 2nd in St. Louis.
The center, part of a $10 million expansion and renovation project by Jazz St. Louis, is a state-of-the-art venue for jazz education and performance named to honor Steward's late father and mother. Opening night will feature a concert by legendary trumpeter Wynton Marsalis. Steward will perform with a group of New York musicians in a tribute to his mother, who was a singer. "My mom loves to hear me play," Steward said. "When I get a chance, I play for her."
Steward, along with his three brothers and four sisters, will attend the opening with his mother, Dorothy. Both of his parents were life-long advocates of the arts and education, he said. "We've got people coming from all over the country participating in this. All of my siblings are coming and my Dad's only living brother is coming in."
Steward, founder and president of Integra Asset Management (http://www.integra-am.com), played trumpet professionally prior to his business career. He still plays selected studio gigs and to accompany friends.
The capital campaign for the project included leadership gifts from David & Thelma Steward, as well as John & Alison Ferring, Centene Corporation, Ken & Nancy Kranzberg, Emerson, and the Jazz St. Louis board of directors. The center is located at 3540 Washington Avenue, next door to Jazz on the Bistro, which closed last spring in preparation for the expansion.
#####
Media Contact: Kathleen Siedlecki, 314-775-5297 or ksiedlecki(at)integra-am(dot)com