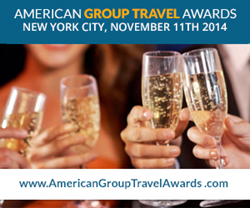 With a quality portfolio of brands approximately 7,500 hotels worldwide, Wyndham provides multiple options for group planners and their attendees to experience an enjoyable hotel stay.
New York, NY (PRWEB) September 25, 2014
"At Wyndham Hotel Group, we understand that group travel covers much more than just citywide conventions and lavish corporate events, and we take pride in offering hotels to thousands of different groups around the world, from small sports teams to social clubs, start-up companies and beyond," said Ross Hosking, Executive Vice President of Global Sales for Wyndham Hotel Group. "Our success is deeply rooted in our ability to forge lasting relationships with trusted partners. We are excited to work with HotelPlanner.com to be a sponsor of the first annual AGTA as we remain committed to offering the best possible group travel experiences for both our partners and our customers."
By sponsoring the American Group Travel Awards, Wyndham clearly understands the importance of the group travel segment. "With a quality portfolio of brands approximately 7,500 hotels worldwide, Wyndham provides multiple options for group planners and their attendees to experience an enjoyable hotel stay," stated HotelPlanner CEO, Tim Hentschel. "HotelPlanner and Meetings.com welcome Wyndham as a sponsor of this year's event."
Voting for this year's event is now available at http://www.americangrouptravelawards.com. Wyndham has been nominated for several awards, including Best Group Hotel Brand- Full Service and Boutique.
About Wyndham
Wyndham Hotel Group is the world's largest and most diverse hotel company with approximately 7,500 hotels worldwide. With highly recognizable brands and hotel choices in every category from upper-upscale to economy, Wyndham offers not only the most lodging choices around the world but also exceptional customer service and great value. Wyndham Rewards®, our free-to-join guest loyalty program, offers attainable travel rewards for the pragmatic traveler and is the only lodging loyalty program to offered guaranteed rewards after just one qualified stay. The program is the largest in the lodging industry based on the number of participating hotels. Members earn valuable points for their stays, which may be redeemed for a variety of reward options, including airline travel, resort vacations, event tickets, gift certificates for leading retailers, restaurants and more.
About AGTA
The black-tie awards dinner held by AGTA is an annual celebration of the very best suppliers to the group travel industry. AGTA and its sponsors recognize companies and organizations that provide outstanding services and experiences for group travelers. Each nomination recognizes the efforts and focus brands have provided to group travelers. AGTA is sponsored by HotelPlanner, the leader in online group planning, and by Landor Travel Publications, the UK's first and leading publication exclusively addressing the needs of group travel.
About HotelPlanner
HotelPlanner.com provides online services to the global group hotel sales market. Its service ensures the lowest rates by allowing customers to receive quotes online directly from hotel group sales managers. The company also provides mobile applications for booking group hotel reservations and owns and operates Meetings.com, a site that provides information on meeting and banquet venues around the world for corporate and association meeting planners. Its services allow customers to book hotels for business meetings, conferences, conventions, family reunions, weddings, extended stays, tours, military reunions, church events, and group travels. HotelPlanner.com was founded in 2002 and is based in West Palm Beach, Florida. The company also opened its European headquarters in London, United Kingdom in 2012.
To find out more information about AGTA, please contact Bruce Rosenberg at (818) 661-0244 or via email at Bruce.Rosenberg(at)americangrouptravelawards(dot)com.