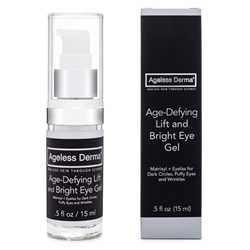 Dr. Mostamand says, "Ageless Derma Age Defying Lift & Bright Eye Gel incorporates three of the most efficacious natural peptide ingredients for maximum anti aging effect."
Irvine, California (PRWEB) October 21, 2014
The Ageless Derma Skin Care company now introduces its latest development with the addition of its Age Defying Lift & Bright Eye Gel. The Ageless Derma brand specializes in the creation of anti-aging products. The development of this anti-aging eye gel is in line with Ageless Derma's dedication to incorporating natural ingredients into their products that will nourish skin and repair the signs of aging, particularly in the more delicate skin around the eyes.
The Ageless Derma Age Defying Lift & Bright Eye Gel is technologically advanced to target the eye area, where the first signs of aging occur. This gel is effective in treating fine lines, under-eye circles, puffy eyes, wrinkling, and skin damage. This latest innovation in anti-aging eye treatment works to brighten the entire eye area, enabling the user to look more vital and younger.
The state-of-the-art natural ingredients used in Age Defying Lift & Bright Eye Gel include patented substances of French origin. The natural peptides used to enliven, lift, and defend the skin are contained in Matrixyl®, Eyeliss® and Haloxyl®.
Peptides that make up Matrixyl® stimulate the formation of new collagen, bringing back elasticity, firmness and nourishment to the tired eye area. Fine lines around eyes can be plumped up to create a smoother complexion. Eyeliss® is made up of three peptides that reduce eye puffiness and decrease inflammation, in turn firming skin and making the complexion glow. Studies have proven that Eyeliss® can elicit almost a 70% correction of eye puffiness. Haloxyl® targets both dark circles and dry skin. This leaves the face looking much less tired and younger, in addition to leaving skin feeling smoother and more comfortable.
Ageless Derma is making something exceptional happen. Their physician-grade skin care product line incorporates a focused philosophy: promoting overall skin health by delivering the most advanced biotechnology and natural ingredients to all of the skin's layers. This attitude still resonates today with their founder, Dr. Farid Mostamand, who nearly ten years ago began his journey to provide the best skin care options for those who want to have healthy and beautiful looking skin at any age. About this latest product, Dr. Mostamand says, "Ageless Derma Age Defying Lift & Bright Eye Gel incorporates three of the most efficacious natural peptide ingredients for maximum anti aging effect."
Ageless Derma products are formulated in FDA-approved Labs. All ingredients are inspired by nature and enhanced by science. Ageless Derma products do not contain parabens or other harsh chemicals, and are never tested on animals. The company has formulated five unique lines of products to address any skin type and skin condition.