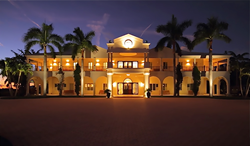 'Regency Christies International Real Estate strives to bring the right property to our distinguished clientele, and we are so pleased that this luxurious property has a proud new owner with a very satisfied seller.'
(PRWEB) September 28, 2014
Robert Greenwood, TCREA President and Principal Broker of the firm states: "This sale elated us all and showcases the true synergy of our team and the impressive outreach offered by Christie's International Real Estate. The elegance of this estate, set in the fabulous beauty of the Turks and Caicos Islands, located on the edge of sparkling turquoise waters and powder soft white sand beaches is second to none. Regency Christies International Real Estate strives to bring the right property to our distinguished clientele, and we are so pleased that this luxurious property has a proud new owner with a very satisfied seller."
Turks & Caicos Islands deserves its upscale reputation and the newly sold beachfront estate exemplifies the luxury offered in the islands. This is a magnificent estate on 10+ acres of Grace Bay beachfront property, with 11,000 sq. feet designed for opulent indoor and outdoor living, including a protected canal lot and custom built boathouse.
On the market for only three months with both buyer and seller in house, this sale exemplifies the quality and effectiveness of Regency Christie's International Real Estate in Turks & Caicos islands.
"Congratulations to Principles and Brokers, Walter Gardiner and Katherine Baryluk for their professionalism and skills required to bring this to fruition."
As the exclusive affiliate of Christie's International Real Estate in the Turks & Caicos Islands, Regency offers their clients global market knowledge, and massive networking and outreach sales promotion, utilizing innovative marketing systems and a network that includes the very best in the industry. Distinguished clientele looking for absolute luxury, essential value, utmost privacy and consummate security and privacy will find all they desire in Turks and Caicos Islands. This offshore tax friendly haven offers impeccable financial services, no property tax, ease of residency and political stability as a British Overseas Territory. The range of properties available now includes:
On Parrot Cay: a world class hotel and spa, plus private residences for the most discerning clients. Welcome to an extraordinary lifestyle, pampered and indulged on all levels where service to you and for you is the absolute priority. We are very proud to represent several very prestigious properties: Make Parrot Cay your Sanctuary.
On Pine Cay Orchid Point: a very private members only community on a pristine 800 acre island, a simple peaceful lifestyle, with 2800ft airstrip and sheltered marina, this island offers the ultimate in privacy and security for you and your family. Orchid Point is a unique 14 acre beachfront estate listed at $7.75 million,
On Providenciales: The Penthouse at Regent Palms: a premium property located on beautiful Grace Bay's twelve miles of white sand beach, the full amenities of Providenciales proffered moments away, nestled within the exclusive luxury of this exquisitely appointed resort. At 3790 sq. ft this Grand Penthouse suite has 3 bedrooms/ensuite bathrooms/private balconies, plus a massive 1200 sqft of outdoor living space.
On Long Bay, Villa Isla: The south shore of Providenciales island boasts a more tranquil environment with true privacy along the shore. This amazing newly built home (finished late 2013) with 5,900 sq. ft. of Caribbean delight sits on a generous 1.3 acre lot and includes infinity pool, hot tub, with 5 bedrooms/6 bathrooms to welcome the whole family! Listed at $4,200,000.
On Grace Bay: Commercial beachfront for sale - One of the last remaining properties available on this popular stretch of beach, over 4 acres of prime beachfront property, zoned for Hotel/Tourism, with over 550 linear feet of some of the most amazing beach frontage. Offered at $8 million.
The Turks & Caicos islands is conveniently close to mainland USA with daily direct flights from 11 major cities. In addition the benefits of this offshore tax haven can be tailored for you by impeccable financial services professionals located here…
Contact Robert Greenwood directly at: 1 (649) 432-7653
http://www.THEturksandcaicos.com
http://www.Christie's InternationalRealEstate