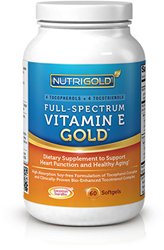 Orem, UT (PRWEB) September 30, 2014
In a 2014 Chinese research study published in the International Journal of Cancer, scientists concluded that dietary intake of Vitamin E may reduce the risk of lung cancer for some women, but that supplemental intake of Vitamin E does not. According to the study, which examined 72,829 Chinese female non smokers aged 40-70, those who had a sufficient dietary intake of Vitamin E were 47% less likely to be diagnosed with lung cancer. In contrast, use of Vitamin E supplements was correlated with elevated lung cancer risk in that individuals were 33% more likely to develop it.
Natural dietary Vitamin E, also known as d-alpha tocopherol, can be found in natural vegetable oils like sunflower oil and helps support healthy cardiovascular function. Synthetic Vitamin E, found in most popular vitamin brands, has approximately half of the biological activity of natural Vitamin E while containing only one identical isomer. Many of the industrial chemicals and solvents used to synthesize vitamin isolates aren't even fit for human consumptions (e.g. coal tar, acetone, formaldehyde, ammonia). If synthetic Vitamin E supplements were given to the test subjects, it comes as no shock that they would be at an increased risk for lung cancer.
An emphasis on the consumption of natural, food based vitamins is something that NutriGold has preached since its founding in 2010. NutriGold's Full-spectrum Vitamin E GOLD™ features a 100% natural, soy-free source of all 8 isomers of Vitamin E (4 Tocopherols + 4 Tocotrienols) from a synergistic blend of Virgin Red Palm Oil and Sunflower Oil for complete, balanced protection. Vitamin E GOLD™ features an exceptional purity profile and is guaranteed free of microbial contaminants, heavy metals, and other toxins.
Making sure that consumers are well educated, when it comes to the the supplements they take into their bodies, is a primary goal at NutriGold. Visit their blog to learn more.
FREE SAMPLES
For free product samples of NutriGold supplements, please visit http://www.nutrigold.com/Free-Samples
ABOUT NUTRIGOLD
NutriGold is a science-based nutraceutical company committed to identifying, developing, and offering cutting-edge nutraceutical products. With a portfolio of best-in-class products at reasonable prices backed by unmatched service, NutriGold is not just raising the bar on quality, but is helping define the standards for the rest of the industry to follow and this is reflected in its:
+ Use of non-GMO, organic, whole-food, and clinically-proven ingredients
+ Uncompromising efforts to manufacture products without artificial ingredients, Stearates, Laurates, Sulfates, and Dioxides
+ Voluntary, extensive third party testing of all raw materials and finished products for identity, purity, potency, and safety
+ Resolute efforts to ensure that all products are free of contaminants, adulterants, allergens, and GMOs
+ Unwavering commitment to transparency, accountability, and truth in advertising
+ Initiatives to educate consumers so they can make informed decisions that affect their health
Website: http://www.nutrigold.com
Phone: 1-866-224-4680
Facebook: facebook.com/NutrigoldUSA
Google Plus: plus.google.com/+NutrigoldUSA
Twitter: twitter.com/Nutrigold_USA