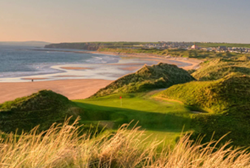 "I suspect even Mark Twain would have changed his tune if he had experienced the golf havens we offer on these trips."
Toronto, ON (PRWEB) September 25, 2014
Butterfield & Robinson—the world's premier active travel company—has launched a new suite of private, read-to-book golf trips to Scotland, Ireland and Augusta National.
Comprising three unique and immersive golf experiences, Butterfield & Robinson's new portfolio of luxury golf trips offer travellers the chance to test their metal (and their handicaps) at some of the world's most renowned courses.
"Mark Twain famously said, 'Golf is a good walk spoiled,' but I suspect even he would have changed his tune if he had experienced the golf havens we offer on these trips," says B&R Trip Designer Tyler Dillon, who hails from just outside Augusta, Georgia.
The new Scotland Golfing Private trip returns travellers to the home of the game and includes a chance to play the famed Gleneagles, home to this year's Ryder Cup. Ireland Golfing Private, meanwhile, combines Irish hospitality with a unique links experience at three of the world's premier golf resorts. And The Masters Golfing Private puts travellers front and centre on the final Sunday of one of golf's greatest tournaments, while helping them get inspired at the renowned Reynolds Plantation.
Butterfield & Robinson's new suite of golf trips joins its robust portfolio of ready-to-book private trips, which includes adventures in all corners of the world, from Bhutan and British Columbia to Tuscany and Tanzania.
Butterfield & Robinson—the world's premier active travel company—designs incredible journeys to the world's most amazing places. Crafted from the finest ingredients (exceptional lodgings, incomparable access, stellar wines and food, experienced guides and more than a few secrets), B&R trips combine adventure with unparalleled cultural immersion in the world's greatest destinations.
For more information on this trip and more visit http://www.butterfield.com.